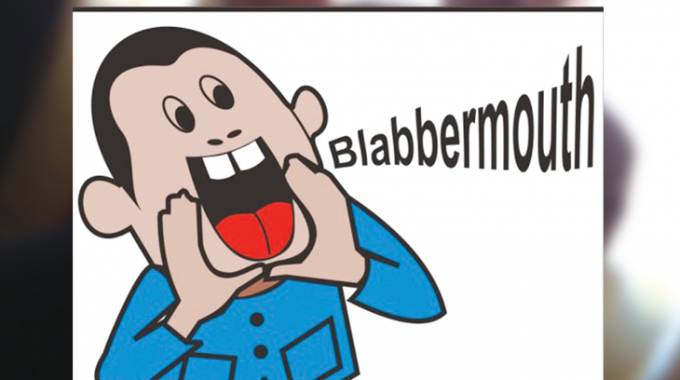 The ManicaPost
IF you did not know, gentle reader, at times Blabber gets spiritual and partakes in the dissemination of the Almighty's Word.
After all, this is in line with the gist of this widely read column — to preserve the little that remains of our moral fabric.
To that end, Blabber asserts that blessed are those who look after children that are not theirs, for their reward awaits them in Heaven.
Yours Truly says so as a way to commiserate or sympathise with fellow comrades that are not only taking care, but some real good care for children that do not belong to them.
Believe me gentle reader, the list is long! If you think Blabber is a liar, take time to scrutinise the multiple sexual relations that this light skinned concubine of this gem dealer had and then ask yourself whether the guy can confidently confess that those kids are his. 
Hell no!
Blabber will not talk about the one to be delivered soon.
The good thing is that the soft spoken guy seems aware of his wife's generosity to the extent that he has somehow surrendered and accepted it. No wonder he is also involved in multiple sexual relationships.
To those in similar situations, calm down, relax and please remember your reward, for keeping children that do not belong to you, awaits you in Heaven.
After all it is culturally claimed that gomba harina mwana!
Ex municipal officer falls
on hard times
Word reaching Yours Truly is that this other former municipal cop has dumped by his girlfriend after falling on hard times.
Remember the municipal cop involved in the torture of this local scribe?
He has been ditched by his girlfriend for greener pastures.
The dude has suddenly hit hard times, and is no longer able to pay rentals, buy food and the general upkeep of his concubine, forcing her to look elsewhere for salvation.
To make matters worse, the concubine has grabbed all the household property and vanished, leaving the rented cottage empty. The miserable dude now hops from one household to another for food and accommodation.
The bribes are no longer coming, so the concubine has opted for that headmaster who plies his tutelage at that peri-urban school.
The guy is damn broke and is now on a begging-spree at relatives' lodgings. This other day he tried to extort money from vendors and motorists, but was told to back off. The alert vendors knew about his sacking from the council by-laws enforcing unit.
The dude's original family has worsened his predicament by ganging up against and throwing him from their apartment, accusing him of deserting them and spending his wealthy, over the years, with mistresses while they suffer.
Businessman goes bananas
Gentle reader, there is this other youthful businessman who lost his mind and Yours Truly is still putting pieces to this puzzle together and you will be the first to know next Friday.
Stay blessed and remember to preserve the little that remains of our moral fabric!