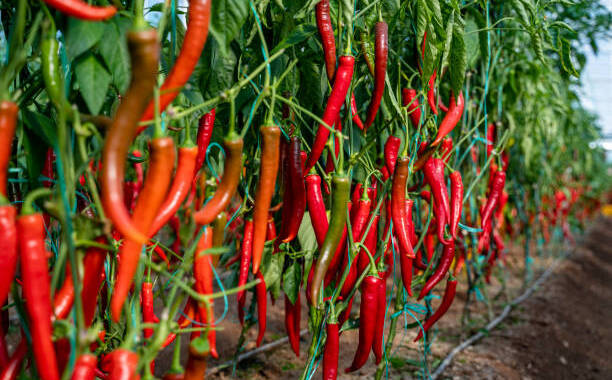 The ManicaPost
Samuel Kadungure
Senior Reporter
GOOD times are set to roll for farmers at Nyakomba Irrigation Scheme in Nyanga after they planted 90 hectares of tabasco chilli.
The chilli has an average yield of nine tonnes per hectare, and is exported at US$1,67 per kilogramme.
Over the years, tabasco farmers at the scheme have been exporting over 250 tonnes of chilli worth about US$140 000 to the United States of America.
The crop is currently being processed at a mini-processing plant that was constructed by Government with aid from the Japanese Government through its agency, JAICA, in 2011.
The processing plant has created employment for youths and women from the area.
The tabasco chili originated in Mexico, and is best known for making the famous Tabasco sauce.
The peppers are red and offer a nice level of heat.
The fruit is tapered and do not usually grow over two inches long.
Tabasco pepper plants can reach a height of up to one and half metres tall, although smaller plants are more normal.
They are very productive plants and can hold many pepper pods at each time.
The peppers start out green, then turn yellow and orange before ripening to a vibrant, bright red.
They can be picked 80 days after germination.
They grow better in warmer temperatures above 24°C, and in well-drained soil with a pH between 5,5 and 7,5.
The performance of tabasco chilli has attracted interest at Nyakomba Irrigation Scheme which has seen an increase in the number of small-holder farmers concentrating on the crop.
More than 200 farmers have over the past five years joined a group of 100 tabasco farmers who started in 2011.
Better Agriculture is available in the area to buy the fresh chilli and has also been assisting farmers with seedlings and other farming inputs.
Farmers receive about 80kg of Ammonium Nitrate fertiliser and an assortment of agro-chemicals which are withdrawn as per need in order to cut the overall input costs.
Participating farmers have managed to purchase cattle, farm implements as well as build decent accommodation for their families due to the lucrative venture over the recent years.
However, Nyakomba Irrigation Scheme chairman, Mr Richard Nyagwaya said their operations are being affected by expensive electricity bills and siltation along the Gairezi River.
He also said Bloc A needs to levelled after it was abandoned halfway some few years ago.
Mr Nyagwaya, who is also Nyanga Rural District Councillor for Ward 11 added that earth canals around the scheme now need attention as they are cracking.
Unlike others, Bloc A has no toilets, exposing farmers to various diseases.
"We are currently processing the tabasco chilli for export at a price of US$1,67. The yield per hectare is great and we are happy that at nine tonnes per hectare, we can break-even.
"However, given an option, we would want a better price per kilogramme. Most crops being grown in Nyakomba are being affected by lack of markets. Tabasco has a ready market, but farmers also produce other horticultural crops like cabbages, tomatoes, onions, garlic and sugar bean, which do not have ready markets and farmers end up in losses," said Mr Nyagwaya.
He said farmers planted 975ha of maize, with an average yield of five tonnes per hectare.
They are preparing to plant 40ha of sugar bean. In winter, they will plant 180ha of wheat.
"Electricity bills are very high and unaffordable to farmers. Apart from lack of markets and high bills, our operations are also being affected by siltation of our pump station because Gairezi River is frequently flooding, thereby blocking the in-let valves that draw water directly from the river into the conveyance pipes to the overnight storage dam.
"Once the in-lets are affected, no pumping takes place. Farmers try to desilt the pump stations, but the problem keeps recurring each time the volume of water in the river increases," he said.
On marketing, he said: "Farmers produce various horticultural crops but are failing to find lucrative markets. Tabasco changed our lives because its market is guaranteed and readily available at reasonable prices."