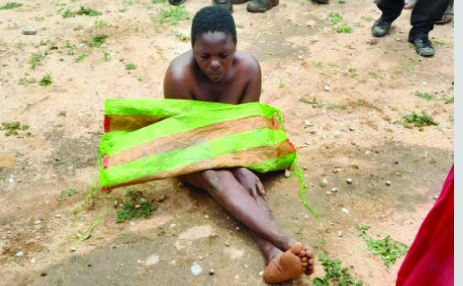 The ManicaPost
Liberty Dube
Weekender Correspondent
A BUHERA woman was found in her birth suit in a Marange shop in the wee hours of Monday in a suspected case of witchcraft.
A Dangarembizi couple, the owners of the grocery shop, woke up to the shock of their lives when they came face-to-face with the naked woman.
Synodia Matenga was sitting comfortably on the shop counter and looked unperturbed.
The Weekender has since established that Matenga hails from Jori Village in Chief Nyashanu's area of Buhera.
Scores of restive people gathered outside the shop at Chingome Business Centre in Tinoengana Village to catch a glimpse of the woman who initially refused to identify herself.
She, however, opened up to the gathering upon being quizzed.
She said she had entered the shop with nine other 'colleagues' as they intended to bewitch the couple.
Matenga revealed that she unfortunately had an altercation with her nine colleagues and they decided to leave her behind.
She then failed to find her way out, probably after her powers had been stripped by her colleagues.
A video and pictures of Matenga seated at the business centre, while scores of people glare at her as she narrates her ordeal has since gone viral on various social media platforms.
Matenga was then whisked away by the police for her own safety, with well-wishers offering her some clothes later on.
She was subsequently summoned by Headman Chiadzwa, Shadreck Chipise, who confirmed the incident.
"It's a taboo and its unheard of. We were shocked to learn about this incident. We hear that Matenga was dumped by her colleagues on their mission to bewitch the shop owners.
"How did she even enter the shop? I summoned her to my court and we established that she had 'flew' in from Buhera for the mission. We gathered that she may have left Buhera the previous day.
"Apparently they were on a mission to bewitch, not this family alone, but they had other targets. We managed to call her relatives and she was taken back to Buhera yesterday (Monday)," said Headman Chiadzwa.
One of the villagers said: "When we asked about what was happening she revealed that they were a group of 10 when they entered the shop. An altercation with her colleagues ensued.
"It is not clear if they undertook the mission or it was aborted. She said they failed to agree on something, before the other group members decided to leave her in the shop.
"How they entered the shop and how they went out is a story for another day, but we were shocked to realise that the woman was inside the shop with all doors and windows locked," said the villager.
Zebediah Chipindirwe, Charamba Village's head, said Matenga appeared to be in a trance.
Charamba Village is next to Tinoengana Village.
"A woman from our area managed to identify her and helped us with the information that she hails from Buhera. From the information at hand, she is mentally stable.
"We called her children in Buhera, enquiring about their mother's whereabouts. They revealed that they had last seen her when they retired to bed the previous night. After she was summoned by Headman Chiadzwa, it was agreed that she should be sent back to her Buhera home. This is a shocking incident," he said.
Zimbabwe National Traditional Healers' Association (Zinatha) president, George Kandiero said: "This is a clear case of witchcraft. She was caught inside the shop stark naked because maybe the shop is protected, among other reasons. The family is lucky to have caught her in the act."