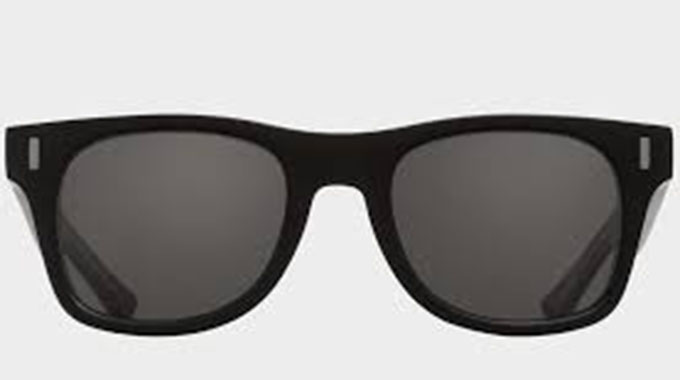 The ManicaPost
SUNGLASSES are not just a style statement – they can attract or repel, be a mirror or a shield. If the eyes are the windows to the soul, then perfectly suited sunglasses aptly deserve to be called 'shades'.
In the hunt for the perfect pair of sunglasses, it's essential to first identify the frames that complement your face shape. While a handful of guys will be able to wear any they like, some will be completely off-limits for others.
Sunglasses for oval face shape
An oval is considered the holy grail of face shapes. Those lucky enough to have a head that is longer than it is wide and with a rounded jaw should try not to look too smug when we say you can wear pretty much any frame (and any hairstyle) out there.
The only advice for oval face shapes (aside from avoiding novelty styles covered in Christmas trees or the numbers of the current year) is to sidestep frames with arms that hang too low, as this will elongate the face further.
Key styles: Anything goes
Most men don't own a vast number of accessories. Often it's a case of the bare necessities: a watch (so we're not late), a scarf (so we don't freeze in winter), a tie (so we don't look scruffy) and a bag (so we don't overstuff our pockets).
However, unless you're a man who enjoys forcibly squinting at the sun (or, indeed, damaging your eyes with year-round UV rays), sunglasses fit well and truly into the essentials category.
A decent pair of shades not only protect your eyes, but they can also be used to hide a multitude of sins (okay, mainly hangovers), finish off an outfit, or create a style statement all of their own. So finding a pair that is just right is extremely rewarding. Of course, this all hinges on getting your head around face shapes and which sunglasses styles suit each. Before breaking out into a sweat, use this guide to shed some light on the process.
Sunglasses for square face shape
As a general rule, the shape of your sunglasses should be opposite to the shape of your face. This helps to create balance by either softening harsh features or creating definition. For example, a strong jawline and wide cheekbones add up to a square face. Therefore, in this case, rounded frames such as aviators and John Lennon-style vintage sunglasses look better than angular designs with sharp lines.
Sunglasses for round face shape
Using the same rule of choosing a frame in an opposite shape to the face, guys with round faces should opt for sunglasses that create as much definition as possible. To make your cheeks appear slimmer, choose a style with a strong brow line in a size that is slightly wider than the head itself. Angular glasses will also help to elongate your temples and lengthen your face.
Key Styles: Wayfarers, square frames, club-masters
Sunglasses for long, rectangular
face shape
To give a rectangular face a sense of balance, seek out glasses that add width to the long shape.
Round or square frames work well here, but make sure you go for larger, even slightly oversized styles.
Key Styles: Wayfarers, D-frames, club-masters
Sunglasses for heart face shape
Of all the faces, a heart shape is one of the most difficult to frame. Because a narrow chin is countered by a wider forehead, it's important not to add extra weight to the top half of the face. Not an easy task when that's where glasses sit. For that reason, opt for Clubmasters, which are semi-rimmed, or other rounded styles that add some curve appeal to a pointed chin.
Key Styles: Clubmasters, round frames
Picking the right sunglasses
Diligent readers, and those with considerably less crow's feet, will have only stored their sunglasses away for a few months (the rainy ones when you objectively look like a tool for wearing them). Which means you need a pair of shades that work (almost year-round). Once the minefield that is face shapes has been successfully navigated, it's time to explore the other points of difference that come into play when finding the perfect sunglasses.
Colour
Second only to the overall style of frame, the shade of shade (if that's not too confusing) you choose has the biggest impact on their wear-ability.
While it's often a classic choice for clothes, black is not always necessarily a perfect match for every skin tone when it comes to sunglasses. "Black frames mean business but can sometimes overpower a paler complexion," says stylist Christopher Maul, who has dressed the likes of David Gandy and Oliver Cheshire. For a timeless alternative, try tortoiseshell or a dark wood-grain finish.
Colour isn't just for the frames either – also consider using different hues to liven up your lenses. Rose-tinted lenses are a classic that will add softness to a minimal sports luxe outfit, while champagne lenses can bring a sense of sophistication to tailored attire.
Style
If torn between a classic pair of sunglasses or something more of-the-moment, cover all the bases with a design that straddles both. But don't forget that eye-wear trends, like others, are fleeting. "The goggles of the 1980s illustrate this beautifully," says Maul." — www.fashionbeans.com.