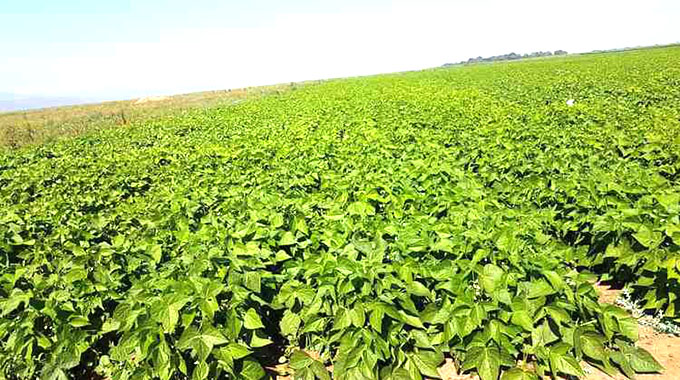 The ManicaPost
Luthando Mapepa Chipinge Correspondent
SUGAR bean farmers at Musikavanhu Irrigation Scheme in Chipinge are fretting over unavailability of buyers for their produce amid fears that the truancy was leading to good-crop poor-price dilemma.
Already the few buyers available are ripping off farmers to the extent that many will not be able to return to the fields next season.
A snap survey carried out by The Manica Post showed that a kilogramme of beans is at the moment fetching $5, which the farmers decry as unfair as it was below the break-even price.
As a result, most farmers are withholding the produce from the market in the hope that this would help them to bargain for a better price.
One of the affected sugar bean farmers Mr Warren Sibiya accused the few available buyers of deliberately "ripping off and impoverishing" farmers.
"We are currently withholding onto our crop because the few available buyers are ripping off and impoverishing farmers. They are taking advantage of the current situation to hoard our produce for a song.
"We tried to engage them, but they are not forthcoming, leaving us with no option other than withholding our produce from the market. Farming is a business, but the farmers' hopes of getting a return of their investment are being compromised by the buyers' exploitative tendencies. Many farmers as a result are racking up huge losses due to lower prices being offered by these buyers and will not return to the fields next season. To break-even we should sell at $8 per kilogramme, but the buyers are arguing that the price is beyond their reach," he said.
Some farmers are shunning the buyers and barter trading sugar beans with other crops.
One such farmer is Mr Zvinei Mutopeya, who is now exchanging sugar beans with maize and urging others to follow suit.
"I did not harvest any maize as the one I had planted was affected by the 2018/19 drought. I wanted to use proceeds from my sugar beans to buy maize for family consumption, but have changed my mind due to the low prices being offered by sugar bean buyers. I am now barter trading sugar beans with maize, and it is working.
"I don't see why others cannot follow my example of exchanging sugar beans with colleagues from the upper side of Chipinge that harvested a lot of maize. This season very few sugar bean farmers will till their fields because the prices being offered are a mockery to our investment. This is the time sugar bean farmers should be buying inputs for next season, but we cannot afford the inputs," he said.