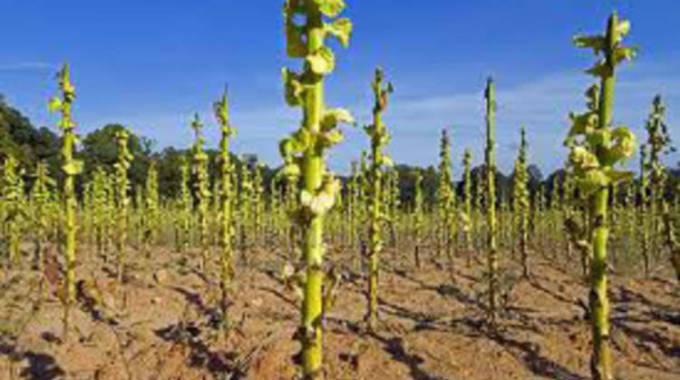 The ManicaPost
Samuel Kadungure
Senior Reporter
TOBACCO growers that are yet to destroy the stalks in their fields will not have their contracts renewed as the Tobacco Industry and Marketing Board (TIMB) will impose stiff penalties on contracting firms engaging such errant farmers.
Non-compliance results in the spread of diseases from the previous season to the next.
In the past, contracting firms would engage farmers without going on the ground to verify compliance with the provisions of the Plant Pests and Diseases Act, Chapter 19: 08.
This Act requires all tobacco growers to clear all stalks from their fields by May 15.
However, two months after the deadline, most fields in prime tobacco growing areas like Odzi, Nyamajura, Nyazura, Rusape and Headlands still have tobacco residue and re-growths in their fields.
These act as hosts for diseases and pests like nematodes and spider mites.
The diseases and pests will then affect yield quality and increase the farmers' input costs.
Destruction of stalks — either by cutting the stems, ploughing or disking the fields to pull roots out of the soil and expose them to the sun — starves and averts carryover of pests and disease into the next farming season.
The danger of non-compliance by one farmer is that the disease and pest will also affect the compliant farmer next door.
In a statement, TIMB said failure to adhere to the de-stalking date can harm the industry.
"The Government, through relevant departments, is recommending some measures to be instituted as a way of enforcing compliance.
"Recommendations that will be immediately adopted are — tobacco contracting companies to only contract farmers who have destroyed tobacco stalks – and companies who do not abide by this directive will be penalised," reads part of TIMB's statement.
Tobacco Farmers Union Trust (TFUT) president, Mr Victor Mariranyika confirmed that some farmers are yet to clear the tobacco stalks from their fields.
"We have noted with concern that there are some small-scale growers who are yet to destroy stalks from their fields more than two months after the deadline. Fighting, controlling and prevention of diseases is every farmer's obligation as they affect the quality of leaf.
"We encourage all progressive and business minded tobacco growers to be mindful of this requirement," said Mr Mariranyika.
Some contracting companies, to ensure compliance with the TIMB directive, are educating farmers on the importance of clearing tobacco stalks.