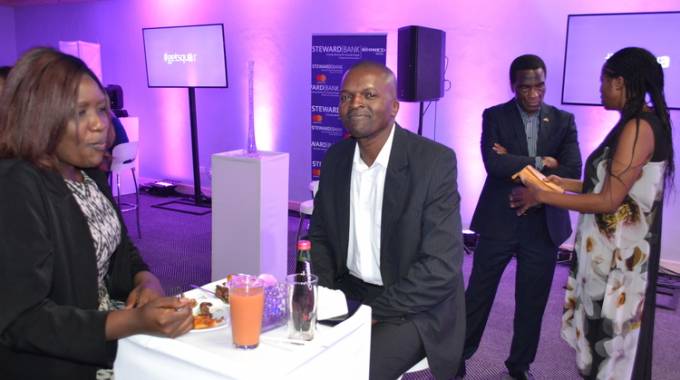 The ManicaPost
Liberty Dube Post Correspondent —
STEWARD Bank on Friday launched a new, exciting and convenient facility in Mutare called Square Banking which would enable clients to perform banking transactions on a mobile phone anywhere and everywhere.
In his presentation at a local hotel, the Steward Bank head of Payments and Alternate banking, Mr Arthur Matsaudza, said the product would enable customers to access financial services from anywhere even when using a phone which does not have internet connection.
Square Banking offers packages such as Mobile App, a USSD-based banking platform, telephone banking and online banking. The solution also integrates with EcoCash.
He said Steward Bank, which is owned by the country's largest telecommunication company, Econet Wireless, was determined to offer "ultimate banking experience" to its valued customers through offering convenient services that are unique.
One of the most exciting and unique features is that the bank offers an instant loan through mobile.
"We are able to deliver excellent services that are ideal for all, you could be a miner, farmer, doctor or even a vendor. We focus on our customers and we have got the solution that is specifically tailored to your particular needs. One great fact about Steward Bank is we are owned with a mobile operator, which means there is no other bank in Zimbabwe that is able to deliver a mobile-centric business, a banking experience on the mobile.
"Kambudzi Banking is a USSD-banking which can be done by those who do not have phones with an internet connection. One can acquire similar functions there.
There is also mobile app where one can simply download the application and do all banking services. When electricity goes, you can be able to get an instant Zesa prepaid electricity loan without even applying. Square banking also allows bankers to pay electricity, school fees and DSTV bills on the mobile.
"As you transact, we are going to give you points where you can redeem as you pay your bill, RTGS payment, or internal transfer, you are going to get what we call "Rewards on the goal" as you transact. As you call us on telephone banking, you are not going to be charged a single cent. We have got zero-rated services for all our Econet callers," he said.
"What is so different on our mobile app, we have integrated our mobile banking solution to Ecocash, it means your bank account is inter-operable with Ecocash which is the first-ever facility in the country. You can be able to transfer your money from Ecocash to bank account of the other way around.
Steward Bank products were among other facilities and services that Econet provided, which exhibited at the just-ended two-day expo organised by the company.
The company showcased other services like the EcoCash, Ownai, EcoSave, EcoHealth, EcoSure and EcoFarmer.
Speaking at a sideline interview, the company's chief operating officer, Mr Fayad King, said because of the global village's appreciation of internet and technology, they would continue to be innovative.
The company took its services to sprawling suburbs like Dangamvura, Chikanga, Penhalonga and Sakubva and saw several individuals and stakeholders enjoying promotional privileges.
"All the trends are moving with internet and technology. It is now a global village that can't do without internet therefore as an organisation we are compelled to remain innovative and continue to work towards inspiring and raise our standards through technology," he said.
He said one its products — EcoFarmer — was ideal for farmers in Manicaland as a farming province since it imparts critical knowledge to farmers on the areas of specialty.
"We have introduced smart farming which imparts farmers with professional knowledge on various issues on the sector and we are very sure that the product will come in handy for all farmers in and around Manicaland as the economy is dependent on agriculture. We interact with our customers everyday but we decided to take this opportunity to physically meet them and exhibit our products and services. We are happy it has been well received and it is going to be a regular one," added Mr King.
The organisation's marketing general manager, Mellany Msengezi-Mariri, said: "After the expo, obviously they would understand our products and services better. They met our staff who comprehensively explained all the services we offer and how they would benefit, which is good for their confidence. Going around the suburbs was very beneficial and was meant for customers in Manicaland province."