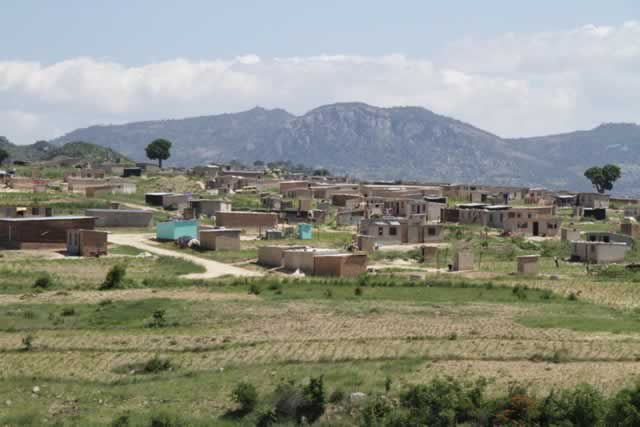 The ManicaPost
Abel Zhakata Under the spotlight
MUTARE'S Dangmvura high-density suburb which used to be a marvel when one views it from the summit of the Link Road Water Reservoir is quickly losing its glamour due to the mushrooming of illegal settlements.
With its unique settlement patterns, mainly comprising linear, rectangular and nucleated designs in tandem with the geological features and the rugged terrain therein, the suburb caught the attention of visitors who were amazed by the set-up.
This glitz and glamour is long gone.
Today, the suburb has been turned into an eyesore as illegal settlements have gotten the better of the location. Makeshift structures are mushrooming daily and the Mutare City Council is apparently failing to stamp its authority and bring sanity.
This squatter chaos started in 1998 when the controversial Mutare Housing Federation Scheme began in the suburb followed by the troublesome Gimboki South Housing Scheme which came into being in July 2007.
The failure of these two schemes due to rampant corruption and abuse of home-seekers funds have led to the illegal settlements as families have bulldozed their way after years of waiting to settle on un-serviced land.
The illegal settlements have in the past decade spread like veld fire, mushrooming everywhere and at times encroaching into the Dora communal lands.
As the illegal settlements grew so has the pressure on services like water and sanitation.
Water rationing has become a permanent feature in the suburb especially in the Area 3 section that is adjacent to the illegal settlements in Federation and Gimboki.
With no water supplies and other ablution services, families in the illegal settlements are drawing supplies from the adjacent locations, putting pressure on already dilapidated sanitation infrastructure which needs upgrading.
Blair toilets are now a common feature while some use the bush that stretches between the illegal settlements and the Dora community which is under Mutare Rural District Council.
Social life here is at its lowest with deviant behavior such as prostitution, burglary and robbery common among dwellers.
As the situation degenerated into the mess that it is today, many had unanswered questions and they are still eager to know what went wrong.
In respect of the Federation story, the clues to what led to the setting up of illegal structures were well captured in last month's stand-off between the Mutare City Council and disgruntled home-seekers who took the law into their hands and went on to invade an open space in Sakubva as compensation for lost stands in Dangamvura.
These are some of the beneficiaries of the Federation housing scheme who were sidelined as rampant corruption and nepotism resulted in bona-fide beneficiaries being left out in the allocation of stands.
Those with money allegedly greased the palms of the people who allocated the stands and were given the green light to occupy the pieces of land ahead of beneficiaries who were paying monthly subscriptions since 1998.
This resulted in a rush as the new owners set base on un-serviced stands.
Those who were unfairly elbowed out of the scheme solely blamed the local authority for failing to bring sanity by ensuring that the stands were allocated to the rightful owners who make up the initial list which council has.
One of the illegal settlers, Mr Peter Marowa, said council must remove the illegal settlers in line with a court order.
"We are tired of this issue which is not being resolved since 2012. We were given a court order to demolish structures that were built on our stands in Dangamvura, but nothing has happened. Council is not helping us and up to this day illegal settlers are occupying our stands," said Mr Marowa.
He said the Minister of State for Manicaland Provincial Affairs, Cde Mandi Chimene in May last year mediated on the matter and gave a two-month ultimatum to the illegal settlers to vacate, but nothing happened.
Ms Beauty Toungana said she had been paying $1 per month since 1998 with the hope that they would be allocated stands on a 25-hectare piece of land in Dangamvura.
"In 2001 we were allocated the land and in 2002 we subdivided the land into Phase One to Three. About 162 members got their stands under Phase One. In 2010, a man identified as Silence Chakarisa, whose wife was part of our consortium occupied our land before us. We tried to stop him but police warned us and advised us to go to the courts. In 2012 an eviction order was granted by the court and council did not execute it saying the cost of engaging the Messenger of Court was too high for them at $300 000. We have moved from one office to the other without any meaningful help," she said.
Acting Town Clerk, Engineer Donaldson Nyatoti, has since said council would not intervene into the Federation saga which he said was internal.
The adjacent Gimboki project has its own fair share of problems which include the alleged embezzlement of millions of dollars during the reign of the Mutare Housing Consortium.
Fraudulent double allocation of stands at the scheme in which more than 3000 beneficiaries were feared to have lost a fortune spilled into the courts last year with feuding parties wrangling over ownership of the un-serviced stands.
Executive members of the consortium were being accused of removing some beneficiaries from the list and substituting them with new comers who would have allegedly bribed them with amounts ranging from $1 500 to $2 000.
Crooks allegedly parceled out stands to people who are not on the initial beneficiaries' list, pocketing thousands of dollars in the process.
This set the new stand owners on a collision course with bonafide beneficiaries who joined the scheme in July 2007 when it began.
Influential people were taking money from unsuspecting home-seekers, allocating them stands that belong to other people.
Interviewed illegal settlers in Gimboki said they could not afford to leave their pieces of land to pave way for proper servicing of the stands because they would find them occupied by other people.
"A lot of corruption is happening here. For us to occupy this stand we paid $2 000 to a member of the housing consortium. We were told to immediately occupy the land otherwise someone will take over. There are no sanitation facilities here but we cannot help it but stay. If we leave we will find our stand occupied. The police must investigate because a lot of people have lost money," said Mr Gilbert Mutema.
Mrs Rhoda Chirisa said the long arm of the law much catch up with consortium members who made a killing and caused this fiasco by deliberately double allocating stands.
"Selling a stand to a person when that piece of land is already owned or sold to someone else is fraud, simple. Fraud is a criminal offence which must be investigated and prosecuted. Police must be called in to investigate because desperate people were milked. In the end, people are now at each other's throats because of these double allocations that are being fuelled by greed," she said.
In August last year a report on the Gimboki scheme written by a five-member probe team that was instructed by Government to investigate anomalies at the project in which more than 3 000 home-seekers were duped of millions of dollars revealed massive fraud, corruption and willful abuse of funds.
Although the Minister of Local Government, Public Works and National Housing, Cde Savior Kasukuwere ordered the arrest of executive members of the Mutare Housing Consortium a month later on allegations of stealing millions of dollars from home seekers no one was arrested.
Gimboki Housing Scheme beneficiaries said although Government had moved in to bring in order and service the stands, something must be done to bring to book culprits who since July 2007 allegedly stole millions of dollars from them.
"What is going to happen to all that money we lost to these fraudsters? Are they going to walk scot-free? Something must be done. They created the current mess we are in and made a fortune out of it. The findings of the probe team must be used to nail these thieves," said Mr Elton Dirwai.
When the actual servicing of the stands gets underway, and no one knows when, it will be a torrid task because some of the makeshift structures were built in the way of proposed sewer and water lines. Some are in the wake of road networks.
For views and comments email [email protected] or text 0772 863 245