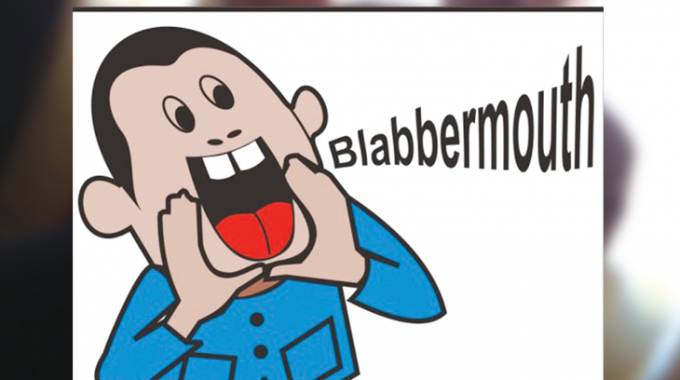 The ManicaPost
BLABBER strongly believes in the empowerment of women.
In this women's month, Blabber is fully appreciates the need to respect and honour them. After all, they are our mothers.
But, Blabber is disturbed by an increase in the number of women abusing their spouses. The attacks on men range from being scalded with hot cooking oil, water and cheating their spouses in broad daylight. It clearly shows that some women have suddenly become architects evil.
Yours Truly is made aware of the trauma that this other clearing agent is going through at the hands of his abusive wife.
Gentle reader do you remember this other clearing agent from a previous instalment of this widely read column who was stabbed by a knife-wielding wife a few weeks ago?
News filtering through is that the boy is forever petrified. He is leading a miserable life simply as the woman, who ought to be his apple of the eye, has become a devil's incarnate that torments him like an orphaned minor being raised by a cruel stepmother.
He is now spending long and lonely nights in his car, scared to share the same bed with his torturous wife. Word reaching Blabber is that the woman sleeps with an Okapi under the pillow.
Blabber wonders what came out of that recent complaint that was lodged with the police following the near fatal stabbing of the miserable agent by this deadly woman.
Alias, the agent is not all alone in this predicament, mess or quandary.
There is this other gentleman, known for his love for the waters of wisdom.
I mean that other one who hardly visits the barbershop, and only if keeping one's hair was synonymous with a fat bank balance, he would be filthy rich.
The guy made news after his wife went head-over-heels with the couple's church pastor. I mean that other church with Western origins and now known for internal squabbles than anything else.
The uncultured wife works for a well known local law firm and should know better about the gravity of spouse abuse.
Word reaching Yours Truly is that the poor husband was badly traumatised by the illicit affair pitting his wife and the promiscuous clergy to the extent that his uncontrolled drinking habits heightened.
Those that know how he used to drink like a fish can only imagine what it means if his sipping has worsened!
Maybe his name says it all, which means 'where should I look' when loosely translated in vernacular.
In fact, just like his clearing agent counterpart, no longer enjoy the comforts of his matrimonial bed and instead spends long and lonely nights in his car or local watering holes.
Blabber joins the fairer sex in calling for observation of women's rights and in the same vein, condemns the abuse of men by women.
I rest my case.