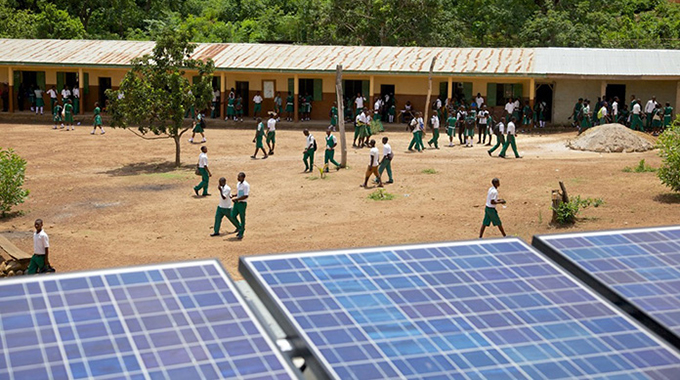 The ManicaPost
Samuel Kadungure Senior Reporter
THE rural education system in Makoni is set to benefit from an initiative by a private company — Stengel Logistics — to connect 16 schools to solar energy to enable human and economic development.
Two schools in each of the eight wards in Makoni North will benefit under the initiative, which was recently launched by the Zanu PF youth league at Hangaiwa Primary School.
The project is being rolled out in tandem with President Mnangagwa's Vision 2030 and was graced by the Makoni North Member of National Assembly, Cde James Munetsi; Zanu PF youth league provincial chairman, Cde Tawanda Mukodza and provincial executive member, Cde Stanley Mbawa.
The project is being spearheaded by Cde Edmore Madhume, who was recently co-opted into the Zanu PF provincial youth executive.
Cde Madhume said they are importing the solar panels from Germany at a cost of $1000 per set of 10 panels.
The panels are meant to power administration blocks and ICT laboratories.
They have a five-year warranty.
Schools that are set to benefit under the initiative are Chitsva, Nemanje, Manyere, Ngwena, Nyahowe, Chapwanya, Murindashaka, Maruma, Chingozi, Mupururu, Govakova, Chinhenga, Nyamusosa, Rumano and Kufa Primary Schools.
Cde Madhume said access to renewable energy is a prerequisite for poverty eradication in rural areas where there are disparities in the distribution of infrastructure.
"Makoni North is my home, and as part of our social responsibility, we will assist these 16 primary schools with solar panels primarily for the administration blocks and ICT rooms. The schools have different needs and in some cases we will end up doing the wiring and installation of panels and the invertors," said Cde Madhume.
"The long term goal of servicing these schools with solar energy is to improve the quality of education delivered to the learner in a rural set-up. Availability of electricity to support rural educational activities is key in attaining President Mnangagwa's Vision 2030 and we are playing our part," said Cde Madhume.
He said the initiative presents a great teaching opportunity that can enrich classroom content with real-time content while enabling schools to reduce costs of travelling and outsourcing such services in Rusape.
Some schools access ICT-related services in Rusape after travelling a distance of about 100km.
Manicaland Provincial Education Director, Mr Edward Shumba said lack of access to electricity hampers development of schools and learners' ability to learn.
He bemoaned the fact that very few rural schools have access to power and ICT infrastructure.
"Quite a number of schools do not have access to electricity and ICT tools. If rural schools have reliable energy services, they will be able to uplift their teaching standards. Real-time teaching is difficult without power and ICT tools," said Mr Shumba.
Makoni Rural District Council chief executive officer, Dr Edward Pise said they have used about $1,5 million under the devolution programme to upgrade 19 schools in the district.
"Nine of the schools are in Makoni South while the rest are in Headlands and Makoni North constituencies. The schools were destroyed, some of them to the ground, by a whirlwind that occurred in November 2019.
"On the other hand, we now have a significant number of rural schools that were electrified. This has improved both teaching and learning," said Mr Pise.
These developments come at a time when the start of the phased re-opening of primary and secondary schools has been set for July 28.
Recommended health measures are currently being put in place.