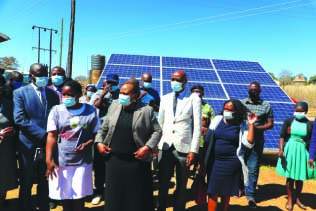 The ManicaPost
Tendai Gukutikwa
Post Correspondent
MUTASA villagers have applauded Government for providing Sakupwanya Clinic with back-up solar power system which guarantees normal and quality service delivery during power outages at the health facility.
The clinic's Sister-in-Charge, Sister Patience Chindondondo said they used to use candlelight during power outages to attend to delivering mothers before the installation of the solar powered system.
"We no longer use candlelight when there is electricity outages. Most mothers used to give birth under candlelight since we had no back-up power at the clinic and that exposed them and their babies to various infections as well as death. The solar power is helping us immensely. It used to be really tricky helping a mother to delivery in a poorly lit environment. Some would die during the process, but all these incidents are now a thing of the past, thanks to the back-up solar power.
"The power helps us see whether the mother is not bleeding after giving birth and whether the child is breathing well. If not, we have to resuscitate the child and this was really a difficult task before the back-up power because we would need an extra pair of hands to hold the candles in the delivery room," she said.
Sister Chindondondo said the maternity wing at the clinic has a labour ward, post-natal care and anti-natal care rooms which serves approximately 3 000 villagers.
A villager in Sakupwanya Village, Ms Hilda Mambeu who delivered two of her three children at the clinic, said the solar system was a huge relief to the community.
"I delivered my two children here and on both occasions, I brought my own candles. I brought two packets of candles for my second delivery because during the first delivery, one pack was not enough. My husband had to rush home to get money and to buy extra candles.
"I am glad that Government has come to our rescue through this solar system. What is now required here is a waiting mother's shelter," she said.
During her tour of Sakupwanya Clinic last week on Friday, Information, Publicity and Broadcasting Services Minister, Senator Monica Mutsvangwa said Government was working tirelessly to ensure that more structures are constructed at all health facilities across the country.
Among the buildings which are under construction at the clinic is a mothers' waiting shelter which Minister Mutsvangwa called for its speedy completion.
"I am very impressed with the clinic. To make sure that this clinic is up to standard, Government has through its partners erected a solar system which is already being used during load shedding. It is mainly being used in the maternal ward because these women who give birth to life need the necessary care and support," she said.
So far, 405 healthcare facilities have been equipped with solar systems across Zimbabwe's 10 provinces, in a partnership between United Nations Development Programme (UNDP) and Ministry of Health and Child Care.
The installations started in 2017 and Regina Coeli Mission Hospital is one of the major referral hospitals in the province that benefited from the arrangement.