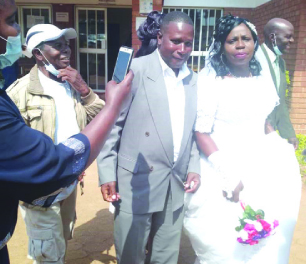 The ManicaPost
Luthando Mapepa
Chipinge Correspondent
WHAT is it like to be snubbed by your own child?
That was the obtaining situation at Chipinge Magistrates' Court last week on Friday when a woman who went out of her way to single-handedly raise her daughter discovered through the grapevine that the latter was tying the knot without her knowledge.
All hell broke loose when an enraged Jane Mangwaya of Gaza E stormed the court trying to stop her daughter, Sithembile Mangwaya's wedding.
Jane could not fathom how her own flesh and blood she risked being jailed by selling dagga to raise her school fees could snub her at such an important day in her life.
Despite the hullaballoo, Sithembile later exchanged nuptial vows with the apple of her heart, Kenious Makanyanya.
Court officials and police details at Chipinge Magistrates' Court had a torrid time to calm Jane.
As the drama ensued, Jane had to be escorted to Chipinge magistrate, Mr Franklin Mkwananzi's chambers for a meeting with the other parties.
Mr Mkwananzi ruled that Jane had no right to stop the wedding since her daughter was an adult blessed with three children.
He added that her daughter had the right to invite guests of her choice.
However, this did not go down well with Jane who stormed out of the meeting, and hurled unprintable words at Sithembile's friends and other guests.
"You are my only daughter. What crime did I commit for you to submit me to such humiliation. Surely, how can you wed without my knowledge?
"Your Worship, I struggled to raise my daughter, and look at how she is repaying me. I used to sell dagga to raise money for her school fees, and look what is doing to me. You can arrest me now, I don't care anyone," charged Jane.
Realising that more police officers were charging towards her, Jane grabbed the wedding cake and vanished from the scene.
When peace finally prevailed, the wedding continued.
The couple's family and friends later managed to raise R500 to buy another cake.
The Weekender later managed to have a telephone interview with an emotional Jane soon after the incident, and she had no kind words for her daughter.
Jane said she would not forgive Sithembile for snubbing her at her wedding.
"Sithembile's father impregnated and dumped me. He did not contribute anything towards her upbringing. She is my only daughter. Her identification card is in my name since her father turned his back on her," she said.
Jane said she only learnt about the wedding of her daughter through the grapevine.
"I was not aware of this wedding, and someone tipped me. Surely, I struggled to raise my daughter after her father dumped us.
"I used to sell dagga to raise money for her school fees and upkeep. I tried to engage my daughter's pastor, but with no joy. The pain I am going through is just unbearable," narrated a bitter Jane.
Contacted for comment, Sithembile said she holds no grudges with her mother.
"I have no grudges with her, but the wedding was a private affair.
"I will invite her for forthcoming events," she said.