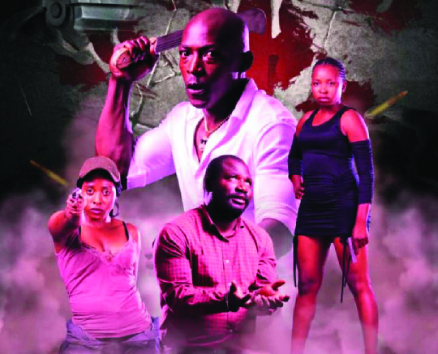 The ManicaPost
Liberty Dube
Entertainment Correspondent
THE first crime series ever to be produced in Mutare, Smoking Gun, is slowly gaining rave reviews following its premiere on ZTV three weeks ago.
The blockbuster series, which is a brainchild of Eastlife Entertainment Studios, handed over the exclusive rights to the national broadcaster and is aired every Tuesday at 7.30pm.
The series was produced and directed by Stephen Mutsago.
Mutsago was also the executive producer of Mutare's first ever crime movie, Vicious Circle, which hit the streets last year.
Smoking Gun has 13 episodes, with six episodes already availed to ZTV.
The series feature seasoned Mutare-based filmmaker, writer, actress and producer, Amanda Ranganawa, who also wrote the multi-award winning film, Kushata kweMoyo, which was screened on DStv Channel 198.
Ranganawa is one of the leading actresses in Smoking Gun where she plays the role of Sergeant Princess Chiito.
Princess Chiito is an undercover Military Intelligence Sergeant.
She is also the daughter of a Gangster Lord called Lady Chii.
Generally, Smoking Gun refers to the strongest kind of circumstantial evidence, as opposed to direct evidence.
The series is a story of a criminal gang terrorising people in Murambi, Mutare, using machetes to rob and kill them.
The gang ends up framing a security guard who then tries to clear his name by escaping from police custody.
Ranganawa told The Weekender: "Playing Princess Chiito really challenged me. I learnt how to fight and to fully embrace my strength. I pushed myself to become a fighter and worked hard every day, exercising and kickboxing with the help of a personal trainer. I have also learnt to own my power as a sexy, beautiful young woman who is intelligent, hardworking and powerful."
Added Ranganawa: "We did Smoking Gun as a way of exposing crime as it affects our economy and our country as a whole.
We see the machete gangs terrorising people everywhere and everyone is afraid of them.
Businessmen and families are being attacked, left, right and centre.
"This ends up affecting the same businesses that feed the nation. So this is our awareness campaign so that people come up with strategies to curb crime. Smoking Gun exposes crime activities such as corruption, murders, kidnappings, cyber bullying, territorial wars, illegal imports of weaponry and precious stones, among other things."
The production team used a sophisticated Canon 5D camera, which among other things has excellent colour grading, thereby making the picture quality sublime.
To come up with an exhilarating and intriguing continuous script like Smoking Gun requires persistence, flexibility and creativity, and it seems like Mutsago struck the right chords.
"It is a milestone and we are happy with the response so far. A series is a different ball game from a movie. It needs concentration. We are working with actors and actresses on this and other productions as we seek to perfect their talents and I am happy with the progress so far.
"We also intend to work on short films in the near future and we are happy with Mabvazuva Creative Hub who has been supportive through creating a positive environment," said Mutsago.
Mabvazuva Creative Hub, which is housed at arts centre, Courtauld Theatre, is an incubator of performing artistes ranging from vocal and instrumental music, dance and theatre, etcetera.
Its coordinator, Henry Tsopotsa said: "We are here to incubate ideas. We realised that they are committed and they fit well into our objectives and vision. This is a great project and it is going to give exposure to Mabvazuva and Eastlife Entertainment Studios."