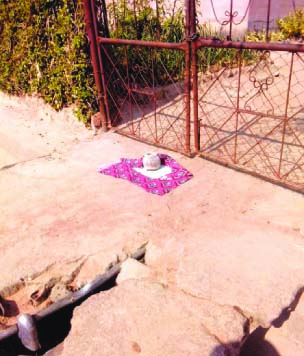 The ManicaPost
Lovemore Kadzura
Rusape Correspondent
AN elderly Rusape woman is having sleepless nights as mysterious and scary events continue to be witnessed at her home in a case of suspected witchcraft.
Ms Tambudzai Makombe of Sanzaguru whose house is being stoned by invisible objects during the night last week woke up to find her small peach tree engulfed by a huge flame.
Just outside her gate there were some paraphernalia associated with witchcraft, a clay pot with whitish stuff and multi-coloured cloth (retso), while a white cloth and a cow horn were discovered in her yard.
A tenant at the house, Mr Owen Mupondiwa said at one occasion, a deafening sound woke them up and when they went out to investigate, they discovered that a peach tree in the garden was on fire.
"I started staying here two months ago as a tenant. This is my first time to encounter this.
"I woke up around 1am to attend to my phone when I heard a deafening sound outside the house. After few minutes, Ms Makombe called me saying there was a fire outside. We went out to dose the flame.
"We poured two buckets of water on the fire that had engulfed the small. The flame was so huge, but what surprised us is that it only burnt a few leaves. A small white cloth fell from the tree.
"At the gate, there was a clay pot and a multi-coloured cloth (resto). We went inside and slept, but more surprises were in store for us the following morning. We discovered a white cloth and a cow horn dumped near the fowl run," he said.
Headman Sanzaguru, Mr Stephen Kamangira, said Ms Makombe's house was haunted.
He said after last week's incident, he advised her to approach Chief Makoni's court to seek guidance and assistance to solve her problems.
"We have received numerous reports of mysterious happenings at the house. Strange sounds are heard at night. At times mysterious stones are hauled on the roof and now we are getting reports of this scary fire and paraphernalia associated with the underworld being dumped at the house.
"I referred Ms Makombe to Chief Makoni where there are experts in handling these issues," said Headman Sanzaguru.
The paraphernalia was later removed and destroyed by a local Pentecostal church pastor.
Efforts to get a comment from Ms Makombe were in vain as she said to be looking for help from pastors and her phone was continuously unreachable.