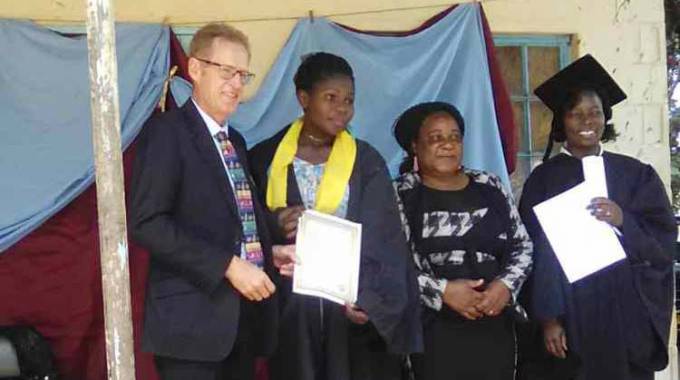 The ManicaPost
Freedom Mutanda Post Correspondent
VOCATIONAL training and lifelong learning are central pillars of employability, employment of workers and sustainable enterprise development that are critical to the attainment of goals aimed at reducing poverty in Zimbabwe.
It is also key in stimulating a sustainable development process and can make a contribution to facilitating the transition from the informal to the formal economy.
This was said by the Zimbabwe Consolidated Diamond Company (ZCDC) chief operating officer Mr Roberto De Pretto at a graduation ceremony for 100 students at Chipinge College of Horticulture, recently.
The graduands received certificates in various disciplines such as garment making, carpentry and joinery, welding, motor mechanics, cosmetology and building and brick laying, among others.
The skills they acquired are essential to addressing the opportunities and challenges to meet new demands of changing economies and new technologies in the context of globalisation.
Mr De Pretto said young people equipped with vocational skills could make meaningful contribution to the economic development of the nation.
"Young people are hardest hit by the scourge of unemployment. Captains of industries and government are partnering to put a stop to this challenge and it is heartening to note that Chipinge College of Horticulture is producing young people with the requisite skills to become employers in their own right. Zimbabwe's greatest asset is its people,'' he said.
"Chipinge College of Horticulture has become a beacon of skills development. With that in mind, I would like to thank the college administration led by Mrs Melody Gapara and the UCCZ church for allowing these youngsters to gain skills which would stand them in good stead as entrepreneurs," Mr De Pretto added.
Government has hinged its economic revival thrust on skills development to improve productivity, employment growth and development.
This can help sustain the competitiveness of enterprises and the employability of workers.
In this framework, skills development can help build a virtuous circle in which the quality and relevance of education and training for youths fuels the innovation, investment, technological change, enterprise development, economic diversification and competitiveness that the economy needs to accelerate the creation of more and productive jobs.