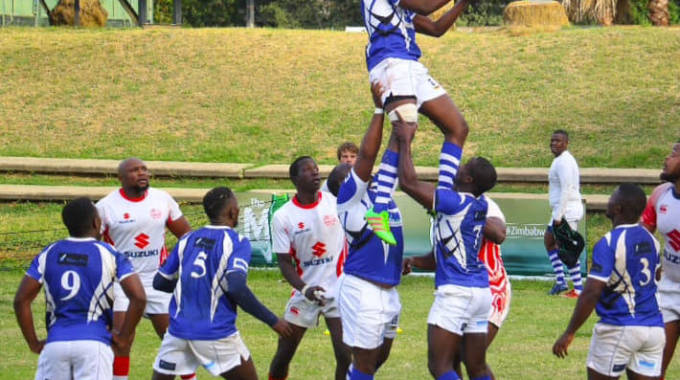 The ManicaPost
Ray Bande
Senior Reporter
MUTARE Sports Club rugby outfit's valiant performance in the Blessed Gerard Sevens Tournament at Roma near Maseru in Lesotho was a good advert for the game, not only for Manicaland, but the country at large.
Fondly referred to as The Shumbaz, Mutare Sports Club rugby team which outplayed Lesotho Warriors in the finals touched down at the Robert Mugabe International Airport on Wednesday afternoon.
Not only did the Mutare rugby outfit won the coveted silverware, their player, Tinashe Gombakomba also got an individual award for being the best tackler of the tournament.
Lesotho Defence Forces, National University of Lesotho, Mutare Sports Club, Maseru Academy, Masote Beavers, Roma Kings and Maseru Warriors took part in the tournament.
Mutare Sports Club captain, Jones Dedza could not hide his joy after winning the Lesotho tournament.
"It was an amazing feeling after having crossed two borders to participate in the tournament and conquering. We were 12-0 down in the second half of our final match against Lesotho Warriors, but realising how much we had practised for this, all the efforts put by sponsors, parents and friends to make this tour a success, we encouraged each other on the field. We got our game up and before the final whistle we scored the winning try.
"Hearing all the Sotho fans celebrating and shouting Shumbaz; Shumbaz after the final whistle was an unbelievable moment that I will cherish for the rest of my life," he said.
The MSC captain thanked the sponsors and stakeholders who helped the team to travel and partake in the tournament.
"I want to thank everyone who believed in us and helped to make this tour a success. We brought a Lesotho trophy to Manicaland and that is really exciting news for all the followers of the game of rugby in the province," he said.
Their team manager, Casper 'The Special One' Bandi, who was the stand-in coach, weighed in and said: "A lot of work and effort was put in from the players' parents and by our administration. We worked so hard to win this tournament.
"In Roma, where the games were played, it was really cold and the boys adjusted well to the weather conditions. Our objective was to win the main trophy and the gold medal.
"The final match was not easy, but the boys showed courage and character. It was a amazing moment. Thank you to all the people who stood with us," he said.