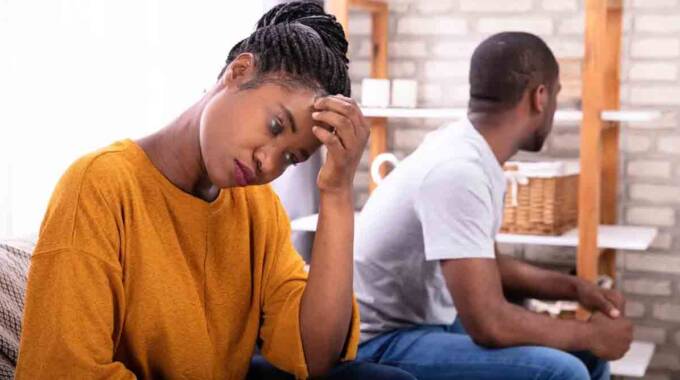 The ManicaPost
Dear Tete Joyie:
I have a boyfriend who my mother and brothers hate because of his character and he does not have a job.
He is always at the shops and he sometimes drinks but he loves me so much.
Now the issue is that some other guy has approached me and he has good character, he goes to church and respects me.
I need your advice, should I remain with my boyfriend or should I leave him and date the other guy? I'm confused.
Tete Joyie says:
I understand that you're in a difficult situation.
It's important to take your time and think carefully about what you want.
Here are some things to consider:
Your boyfriend's character: You mentioned that your mother and brothers don't like your boyfriend because of his character.
It's important to think about whether you agree with their assessment or not.
Do you feel that your boyfriend's behaviour is problematic?
Are there things about him that you would like to change?
Your boyfriend's work habits: You mentioned that your boyfriend doesn't go to work and spends a lot of time at the shops.
This could be a red flag, especially if he doesn't have a good reason for not working.
It's important to think about whether this is something that bothers you and whether it's something that you can live with in the long term.
Your feelings for your boyfriend: You mentioned that your boyfriend loves you very much. It's important to think about how you feel about him.
Do you love him? Do you see a future with him?
The other guy: You mentioned that another guy has approached you and that he has a good character and goes to church.
It's important to think about how you feel about him. Do you like him? Do you see a future with him?
Your values: It's important to think about what's important to you in a relationship. What are your values? What do you want in a partner?
Ultimately, the decision is yours to make.
It's important to take your time and think carefully about what you want.
If you're still feeling confused, consider talking to someone you trust, such as a friend or family member, or seeking professional help from a therapist or counsellor.
I hope this helps.
*********************
My sisters nudes are all over the internet
Dear Tete Joyie: Someone hacked my sister's iCloud and shared intimate photos of her online.
I'm worried as she is thinking of killing herself and I'm desperate to help.
She has tried to delete them but they come up on other sites when you Google her name.
Everyone talks about this down the pub and now our two male cousins have had naked photos of her sent to them by a random stranger.
This has affected her deeply.
She's only 20 years old and now more ­withdrawn and nervy than ever.
She's told me she's thinking of ending her life.
Tete Joyie says:
I do feel for you all but reassure your poor sister she hasn't done anything wrong.
Those who are putting her through this are breaking the law and she should contact the police.
Of course that feels scary so suggest she first contact the Victim friendly Helpline which is dedicated to supporting adults who have been victims of image-based abuse.
************
I want more than the great sex
Dear Tete Joyie:
For six years, I have been having sex with an amazing guy and I am falling in love with him.
He doesn't want a relationship with me but sex with him is so good I can't give him up.
We first met at a college disco 10 years ago.
We had a few dates back then but I was young and stupid.
He finished with me after I flirted with his best friend.
I bumped into him again six years ago.
I often pick up a latte on my way to work and one morning he was in the coffee shop.
He told me he had recently moved back to the area and we arranged to meet for a drink after work a few days later.
We got on really well and he asked if we could meet again.
We started seeing each other and soon we were having sex, which was brilliant, but things were still fairly casual.
He is 28, I am 26 and we are both single.
He has a good job and a decent family.
He treats me with a lot of respect, like a girlfriend.
We have a laugh and a good time when we are out together.
He always tells me what a great person I am and how beautiful I am.
My mum has met him and loves him.
She has always said we should be together.
I asked him last week if he would consider a relationship with me but he said no.
He said he wouldn't want to risk a relationship ending on bad terms and not having me in his life.
I said that would never happen but he insisted he is just not a relationship person.
I am heartbroken.
I know he has feelings for me, as he had told my friends how much he admires me.
Now I feel bad, as I had the chance to be with him years ago and I messed up.
Tete Joyie says:
You cannot go back and put right the mistakes you made ten years ago.
In any case, these mistakes may not be connected with why he does not want a relationship now.
So stop blaming yourself.
His feelings are more likely due to his experiences after you broke up.
He says he does not want to lose you but he is doing nothing to keep you.
Tell him that you are falling in love with him and you want to start a committed relationship.
If he still says no, you cannot change this but you should stop accepting just being friends with benefits.
The longer you let this continue, the more you will hurt.
Make it clear that if he does not want a real relationship, you will not be having sex with him again.
That could focus his thinking.
If he still refuses to commit, give yourself time to get over him and move on.
If you are looking for advice on the tricky situation that you find yourself in, WhatsApp 0716 069 196 and Tete Joyie will assist you in solving the problem. Remember, all those who write to us remain anonymous.