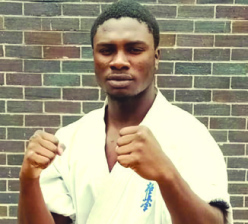 The ManicaPost
Ray Bande
Senior Reporter
RUSITU-BORN three-time World Karate champion, Shihan Samson Muripo's rural background in the remote parts of Manicaland, gives youngsters in the eastern border province a reason to believe they can also achieve more in the sport.
Shihan Muripo was born and bred in Ndima Village in Chimanimani District.
Thus a number of karatakers from Manicaland who took part in this year's edition of the Shihan Samson Muripo Regional So Kyokushin Karate Tournament held early this month at Chitungwiza Aquatic Complex gave a good account of themselves in a fiercely contested competition.
The regional contest brought together participants from South Africa, Malawi, Mozambique and the hosts, Zimbabwe.
Sensei Allen Makufeni, who led Team Manicaland into battle, said: "We represented Manicaland very well at the just-ended Shihan Samson Muripo Regional So Kyokushin Karate Tournament held on November 5 at Chitungwiza Aquatic Complex where Japanese Ambassador to Zimbabwe was the guest of honour.
"I am convinced that Manicaland Karate Team performed very well with most of the fighters like Liberty Zindi giving a good account of themselves," he said.
Zindi, also known as Uchideshi, a Japanese name meaning 'an inside student', won by knockout in the first round and the second round though he didn't make it in the third.
This was his first time to participate in a full contact karate tournament, including all other fighters from Manicaland, except for Lawrence Uta and Allen Zinyenga.
Kyokushin is a full hard contact knockdown karate which needs total body physical conditioning and skill as well as ample time for one to prepare himself or herself.
"As Manicaland So Kyokushin Karate Association (MSKKA) and Manicaland Karate Union (MKU) technical director, fourth Dan Black belt Saiko Sensei (Senior Karate Teacher), I have hope and faith that through continued vigorous training, exposure and sponsorship, Manicaland karatakers will make it to the top.
"We are also happy with the inspiration that we get from Shihan Samson Muripo, being one of us who hails from this province. This is a great source of inspiration to our karatakers," added Saiko Sensei Makufeni.
Saiko Sensei Makufeni is already preparing local karatakers for a Kyu Technical Promotion (Colour Belt Grading Examination and Certification) scheduled before year end. The sport of karate in Manicaland is never short of role models as Saiko Sensei Makufeni is also a primary school teacher at Mount Dangare Primary School in Mutare peri-urban.
He did his teacher training course at Marymount Teachers' College where he majored in Physical Education, Sport and Mass Displays (PESMD).
He is pursuing his studies in Bachelor of Science in Physical Education and Sport (BScPHES) with the Zimbabwe Open University.
Saiko Sensei Makufeni said: "We thank Tafadzwa Mandisekwe, Caroline Marufu Buwu, Allen Fitness Centre, Raylton Sports Club in Mutare, Chitungwiza So Kyokushin Karate Dojo-Senpai Evans Mutsahuni and the community at large for assisting us to participate at the just-ended regional tournament."
In the November 5 contest, in the lightweight category, Manicaland's Tafadzwa Dzinamarira won the first round and lost in the second round, while Lawrence Uta and Noah Mabota also attained the same feat.
Talent Njekete, Trevor Muchisi and Allen Zinyenga lost in the first round.
In the men open weight category, Kudakwashe Chiandire lost in the first round.