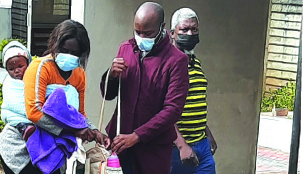 The ManicaPost
Tendai Gukutikwa
Weekender Reporter
A Mutare woman was last week left with egg on the face after it was discovered that she was lying under oath about meeting all her children's financial needs.
It emerged that her two children were beneficiaries of the Government sponsored Basic Education Assistance Module (BEAM) programme.
Rayna Muwandi had told the court that she was the one paying her children's school fees, while portraying her ex-husband, Luke Chidiro, as a negligent father who refuses to take care of his children's needs.
The two children are both in secondary school.
Presiding over the matter, Mr Xavier Chipato castigated the woman and told her that maintenance is meant for a child's upkeep and should not be used as a tool to fix the other party.
"Had this not been a maintenance matter, I would have dismissed it. How would the court believe anything that you are going to tell it after all this?
"The court understands that you are bitter because of his past behaviour towards the children's upkeep, but we need to move forward and see that the children are well taken care of.
"Maintenance is not meant to fix the other party and you should not lie to the court to settle scores," he said.
Muwandi apologised to the court for lying.
"I am sorry Your Worship. I was so angry with him because he has been negligent towards the children's upkeep for a long time.
"I wanted the court to make him pay more money as compensation for his past mistakes," she said.
Muwandi had applied for an upwards review of her two children's maintenance from 1 500 to US$100.
Muwandi told the court that she could no longer afford to pay her children's school fees as it had been hiked to $11 000 for each child.
However, Chidiro said the claim was well beyond his reach as he could only afford to pay US$30 every month.
"I am a self-employed painter and I rely on friends and family members for contracts.
"I do not have a monthly salary.
"While the school fees are being paid through BEAM, I buy stationery and school uniforms for my children. I also give Muwandi groceries every month for the upkeep of the two children, so I do not see why she is summoning me to this court. I am a responsible father," he said.
Chidiro was ordered to pay US$30 monthly for the upkeep of the two children until they turn 18 or become self-sufficient.
He was also ordered to acquire birth certificates for his children on or before July 30.
This was after Merekai had told the court that Chidiro was refusing to acquire the documents for his children.