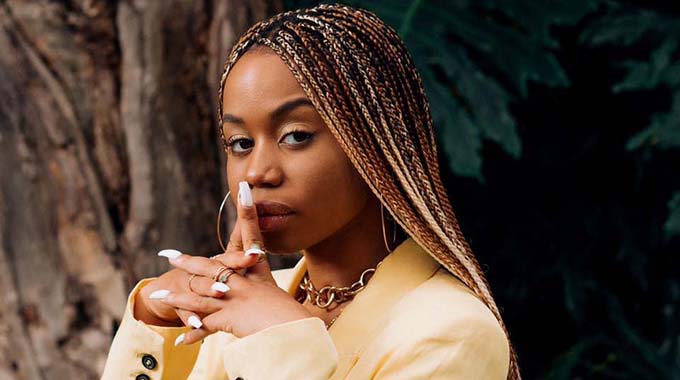 The ManicaPost
Liberty Dube
Post Correspondent
Jubilant people from across the province were this week celebrating a historic feat after Amapiano songstress Charmaine Shamiso Mapimbiro, popularly known as Sha Sha, won the Viewer's Choice: Best New International Act at the Black Entertainment Television (BET) awards on Monday.
This is a first for Zimbabwe.
Sha Sha traces her roots to the dusty streets of Dangamvura's Area 13, Mutare, where she lived with her aunt.
The songstress was nominated in the same category with talented artistes such as Young T & Bugsey (UK), Hatik (France), Rema (Nigeria), Celeste (UK) and Stacy (France).
In her acceptance speech, the queen of Amapiano said: "I am super excited and I can't believe that I have just won this award. I want to thank God, my family and the people back home, as well as my team in South Africa. Everybody has been super amazing. I love you guys."
Writing on her Twitter handle, Sha Sha said, "You only need to know what you want, get informed, stay focused, be bold, work hard and pray hard. Hard work always, always pays off. Surround yourself with the right people and positive energy because honestly, this journey is not easy."
Jackie Rutendo, a jazz songstress, spoke highly of Sha Sha's lyrical ingenuity and silky voice.
"This is an award that will not only motivate her to do better, it will also spur us on as Mutare artistes. It is refreshing to note that she hails from the eastern border city, particularly the dusty streets of Dangamvura. I am proud to be associated with such achievements.
"I believe there is a lot of talent here. Manicaland is a home of stars. Indeed, the sky is the limit for Sha Sha and all the other artistes," said Jackie.
Budding artiste Boss Shingie, who in 2011 worked with Sha Sha on the song ''Tiri kufara'', said Sha Sha is passionate about music.
"She is destined for greater heights. Her vocals are always on point. We collaborated on 'Tiri kufara' in August 2011, although both of us were not yet in the mainstream music industry. It was just for fun. Back then she already exuded brilliance," said Boss Shingie.
Namabvi hit-maker, Pastor Tinashe Murigo, said Sha Sha's achievement is an indication that Manicaland has amazing artistic talent which can shine bright across the whole world."
Sungura ace, Brian Samaita of the ''Handityi Kufa'' fame said local artistes have a lot to offer to the global audience.
"Manicaland is a force to reckon with in the music industry. Congratulations to Sha Sha, Mutare and Zimbabwe at large."
Award-winning gospel artiste Blessing Shumba said Sha Sha is the province's jewel.
Sha Sha joined DJ Maphorisa's stable in South Africa in 2018.
In 2019, she dropped her debut studio album ''Blossom'' which carries plug songs such as ''Tender love'', ''Something about you'' and ''Sing it back'', among others.