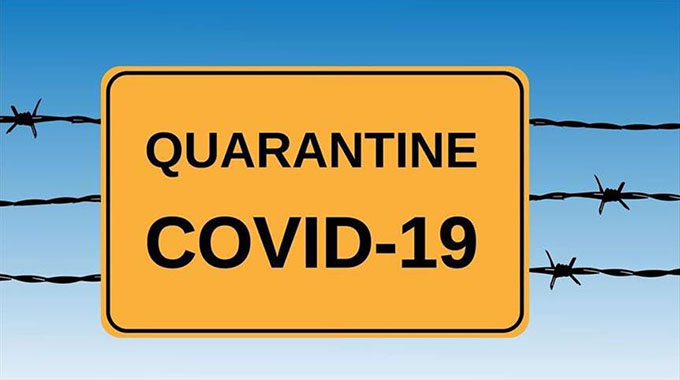 The ManicaPost
Dr Mazvita Machinga
As Covid-19 continues to wreak havoc across the globe, preventing the spread of the virus is key to slowing down this pandemic.
Of late, we have been hearing much of words such as isolation, quarantine and physical distancing.
These words have become common  as individuals, families, communities and governments make efforts to fight Covid-19.
Being in quarantine and isolated from the rest of the communities is never comfortable. In this article, I will share ways to cope with quarantine in case you see yourself  in this situation.
I will talk about how to look after yourself while in quarantine.
People who have symptoms or who may have been exposed to the virus should practice self-quarantine or self-isolation.
But what do the terms mean, and which should you do? Both isolation and quarantine are public health practices used to protect the public by preventing exposure to people who have or may have an infectious disease. Isolation separates sick people with an infectious disease from people who are not sick. Isolation is for people who are already sick.
On the other hand , quarantine separates and restricts the movement of people who were exposed to a contagious disease to see if they become sick. These people may have been exposed to a disease and do not know it. Quarantine is for people who are not sick but may have been exposed.
Quarantined people may stay at home or at designated locations, so they don't spread disease to healthy people. Quarantine can be voluntary, but in a public health emergency, officials have the authority to quarantine people who have been exposed to an infectious disease.  So the two terms are different and people should know which one is the best option for their situation.
In case you see yourself in quarantine, take care of your mental health.
It's totally normal to feel stressed or anxious during quarantine. As you quarantine, you may feel anxious, bored, restless, and not sure how to sort your difficult emotions. Be compassionate with yourself. 
Throughout quarantine and beyond, boost your mental, spiritual and physical wellness by practicing self-care.  It is ok to focus on yourself. Self-care is  about being self-aware and recognizing your own needs. Self-care is essentially supporting your own physical, emotional, and spiritual needs, etcetera.
What does your version of self-care look like ? Eat healthy, move the body in doors and have adequate sleep, etc
Create a self-soothing toolbox- a collection of ideas, activities, and habits that will calm you down when you're feeling stressed and overwhelmed.
Stay at a distance but not in loneliness. Wear your mask and stay connected with friends and loved ones. Talk to people regularly. To avoid feeling overwhelmed, take breaks from the news and social media, but stay updated from accurate sources   
Monitor yourself daily for symptoms such as fever, cough and shortness of breath. If symptoms develop, call your health care provider or local hospital for advice.
Use this time to learn something new through online classes or tutorials. An amazing platform for online classes is Skill-share. When the world outside feels out of control, focus on the things you can control while in quarantine
Be mindful to support your immune system. Remind yourself why you're practicing isolation or quarantine. It's to keep not only yourself safe but others such as parents, friends, children, etc, as they may be extra vulnerable.
If your mental health worsens to the point you have thoughts that life isn't worth living, call Crisis / Suicide Toll Free 0772 571 656
Supporting those in quarantine
Remember, it's been shown that a period of just two weeks in quarantine may cause serious mental health issues, such as post-traumatic stress disorder (PTSD) symptoms, depression, confusion and anger. That is why you should check on your loved ones to make sure they are coping well.
Encourage them and assist with practical ways to cope. Help them create something meaningful and create a routine to keep them busy. Support their basic needs for food, shelter, etcetera. 
All those in quarantine, we thank you for doing such an honourable and selfless act and keep your mind busy as much as possible. Remember to nourish your spirit through various spiritual practices such as prayers and reading the word of God.
Dr Mazvita Machinga is a psychotherapist based in Mutare. For more information on emotional and psychological support, email [email protected] or call 0771 754 519