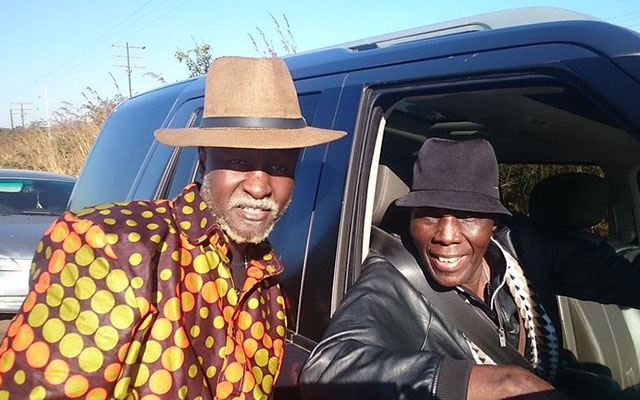 The ManicaPost
Entertainment Reporters
AFRICAN-ROOTS musician, Bryn Taurai Mteki is determined to win back hearts of the legion of Chimurenga music-starved lovers judging from the explosive shows he staged at Club Mandisa and Dzonzayi Complex in Chipinge last weekend.
Initially, Sekuru Tau, as he is affectionately known in the musical circles, faced a daunting task to woo back Chimurenga music lovers after a 16-year sabbatical in the United States of America.
He was a darling of many before he left to pursue other projects overseas. His sublime performances left many clamouring for more, particularly his verve and well-choreographed acts.
Sekuru Tau and his 14-member band strum a blend of golden oldies and new tracks such as hits, Mai Maria, Ndogara Ndega, Kurauone, Ndinongovhaira and Inzwa.
The Weekender was left to conclude that the flamboyant musician could be the panacea for the starved Chimurenga music lovers and can fill up the huge gap created and left by Thomas "Mukanya" Mapfumo who is still in the USA. He, however, prefers to call his music, African Roots.
"I am back with a bang and people should expect much more from me. I am in Zimbabwe for good. I will perform in various entertainment centres across the country to reunite with my fans. I am quite aware of what people are expecting from me and I must say I am ready to conquer. African Roots is a genre that sounds like Chimurenga," he said.
Meanwhile, the star-studied band, R.U.N.N Family and ragga manyika outfit, Assegai Crew will take turns to entertain fun lovers when they perform at Club Mandisa tomorrow (Saturday).
They will be supported by talented hip-hop musician Flexxo and wheel spinner, DJ Touch. R.U.N.N Family who will be performing at the entertainment hotspot for the first time this year, is expected to set the roof on fire with their yester-year classics such as Gumbo Mumba, Gumbo Panze, Buda Pachena, Ndoita Wekudiniko and Moyo Muti as well as fine tracks from their last album, Echoe of A Child's Anthem such as Chihera Changu, Nhoro and Kungoti Pote.
The show will also be the group's lead vocalist, Peter Muparutsa's part of his birthday celebrations. He turned 58 last week.
"I feel blessed to have reached this far and I am really thankful to God. I am still into music industry because I chose to remain young inside. That young somebody in me has encouraged to be creative and pursue music diligently. I have reached this far because I stand guided by God," said Muparutsa.