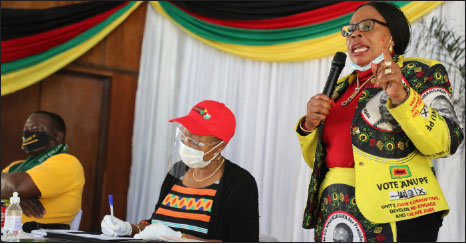 The ManicaPost
Samuel Kadungure Senior Reporter
Schools are expected to meet standard health operating procedures to protect students and teachers from Covid-19 ahead of the phased schools' reopening next week.
Cambridge classes will reopen on September 14 while those sitting for the Zimbabwe School Examinations Council (Zimsec) examinations will resume classes on September 28, with their examinations scheduled to start on December 1.
A number of public health measures need to be adhered to, among them slashing classes, availing hand-washing stations at all strategic points, provision of clean running water, disinfection of learning institutions and the establishment of temporary isolation holding bays for Covid-19 suspect cases. The number of pupils in each class will be slashed to not more than 35, with lessons conducted outside wherever possible to minimise contact. Schools must also have huge stocks of cleaning supplies, personal protective equipment for all staff and learners and upgrade their ventilation systems.
Boarding schools require redesigning of dormitories and dining halls to promote physical distancing.
The learning institutions are also being urged to adhere to a strict disinfection schedule for bathrooms and toilets thrice a day.
The schools should also ensure that laundry is not mixed while students should not share linen, toiletries, and food items.
These new guidelines are contained in a document titled 'Standard Operating Procedures for Prevention of Covid-19 and Other Influenza-like Illness in the Primary and Secondary Education Sector', which was released to the media last week by the ministry's spokesperson, Mr Taungana Ndoro.
However, Mr Ndoro had not yet responded to follow-up questions on the schools' preparedness by the time of going to print.
Reads the document in part: "Wearing of face masks is compulsory to all learners and staff members. Learners and staff should use clean masks everyday, and these will be provided by the schools. Education leadership should lead by example in promoting consistent physical distancing of at least one metre in all human interactions.
"To achieve this, there should be a learner at each desk, or the school should improvise the desk and chair approach. A standard sized classroom should not accommodate more than 35 learners."
Physical distancing should be practiced at assembly points, during meal times, at the playgrounds and boarding hostels, while sharing of bunk beds, handshakes, touching, hugging and other bodily contact have been banned.
"Contact greetings should be completely avoided. .  . Each classroom should have access to a functional hand-washing facility with running water and liquid soap.
"Screening should focus on body temperature and a history of fever, cough or difficulty in breathing. Feverish students and teachers should not be allowed to enter the premises, but instead must be referred to the isolation holding bay for further attention," reads the document.
Staff and students who have been in contact with confirmed Covid-19 patients should stay at home for 14 days.
National Association for Secondary Heads (NASH) president, Mr Arthur Maphosa said it is high time for schools to reopen following their closure on March 24.
He went on to appeal for relief funding for schools to meet the stipulated health guidelines in line with Covid-19 prevention.
"Most schools have no funds to implement these measures. All stakeholders need to come on board to ensure the safety of our children and their teachers," he said.
Government, through the Ministry of Primary of Primary and Secondary Education, is currently procuring PPE, infrared thermometers, disinfectants and other hygiene products to the tune of $654 147 907 for distribution in schools.
Most parents have welcomed the reopening of schools, saying the prolonged closure was causing a lot of anxiety and stress.
However, they have pleaded with Government and all responsible authorities to ensure strict adherence to the Covid-19 prevention guidelines.
Ms Faith Masiya, whose child is a Form Four student at Holy Ghost High School in Mutare, said her son's future had been hanging in the balance over the past five months.
"Schools just have to open. When they do, it is everyone's responsibility to ensure the safety of our children. Parents should play their part in complementing Government's efforts in creating a conducive learning environment for the students. We have been told that schools will adhere to WHO safety guidelines, which is commendable," said Ms Masiya.
Mr John Mudzingiri, father to a Form Six student at Marange High School, said watching his daughter slowly losing hope of sitting for her final examinations this year had been tearing his heart apart.
"My daughter was always asking if she would be able to sit for their examinations, it has been heart-breaking. Now that the dates have been announced, there is a ray of hope," he said, before adding that schools should not to come up with wild new fees structures.
"Responsible authorities should bear with us. Some parents lost their jobs and other sources of income during the lockdown, but they also want their children back in school. Schools should therefore come up with payment plans for the parents," he                                                                                      said.
Mr Stanely Mbawa, whose child is a Form Four student at Nyazura High School, said parents want realistic child-care solutions to guarantee their safety at school.
"I am greatly concerned about the safety of my child and everyone else.
"These children will be coming from different backgrounds to mix and mingle at school. Yes, there might be safety precautions in place, but how safe will they be?" he said.
Mr Thomas Mamvura said schools should not reopen with a business as usual attitude as this might create room for infections.
Another parent, Mr Precious Shumba, said the decision to reopen schools was long overdue.