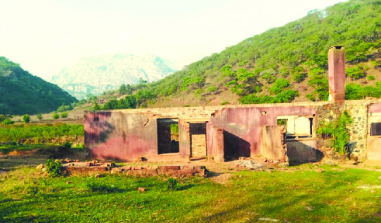 The ManicaPost
Ray Bande
Senior Reporter
"ALL our guests, and employees were moved to a safe place. It is unfortunate Cyclone Idai destroyed all our property. We are down, but not out. We will rise again. Pray for Chimanimani," read a message posted on Chimanimani's Mawenje Lodge Facebook page at the height of human, and infrastructure destruction caused by Cyclone Idai in March 2019.
It has been more than two years since Cyclone Idai struck, and left a trail of destruction. Its pockmarks in human, and infrastructure destruction are evident to this day.
Since the unforgettable night of March 15, 2019, the disaster recovery process has seen roads, and bridges being constructed in Chimanimani — the hardest hit district — in commendable efforts to restore sanity, and normalcy around one of the country's prime tourist destinations.
Schools in Chimanimani District have received assistance through refurbishing, and construction of building as well as provision of stationery, and computers, all as part of efforts to restore their old conducive learning environment.
Post traumatic disorder counselling has been carried out for survivors who witnessed the blood-curdling incidences that came with the tropical storm.
But if there is one sector that still yearns for being 'built back better', then it is tourism.
While efforts to give accessibility to these tourism products have been commendable, some resort areas like Outward Bound are still hardly accessible owing to the poor state of the road.
In the aftermath of Cyclone Idai, beautiful structures that used to attract tourist from all over the globe were left in ruins, while some attractive sites were left inaccessible.
As if that was not enough, the Covid-19 pandemic also had a dent on the recovery process.
Illegal gold mining has not made the situation any better for the tourism sector in Chimanimani.
Chimanimani has many tourism products to offer.
For example, the Chimanimani National Park is a natural park which is surrounded by mountains from all sides.
It houses several natural trails where one can hike, and enjoy the view of the Chimanimani Mountain as it possesses a scenic beauty where one can sit, and appreciate the works of nature.
The Eland Sanctuary, Vimba Wilderness, Moovah Park, Hanoni Falls, Lionhill Forest Land, Tesa's Pool at the magnificent Outward Bound, the Bridal Veil Falls, the Peterhouse Cave and Hot Springs Resort, among many others are some of the world class tourism products Chimanimani offers.
An experienced Chimanimani tour guide, Mr Collins Sibanda said: "The tourism sector has suffered the most in recent years. Cyclone Idai destroyed buildings, and other infrastructure. For the record, the tourism sector is a major employer here in Chimanimani.
"The situation for the sector has been worsened by rampant illegal mining. Due to veld fires being reported time again, we are experiencing landslides every rainy season. Many plant species that were common here are fast disappearing. Many natural streams that used to host mermaids are drying up. Our sequence of seasons has completely changed."
Speaking during a recent Crisis Reporting workshop for Mutare journalists, Chimanimani Ward 15 councillor, Councillor Pangani Chirongera — whose Ngangu area was one of the hardest hit by Cyclone Idai — acknowledged the need to do more to resuscitate the tourism industry in Chimanimani.
"Efforts are being made to improve accessibility to tourism sites such as Bridal Veil Falls, and Chimanimani Mountains. We are working in conjunction with ZimParks. Accessibility has been one of the major challenges, but we are on the right track.
"Plans are also underway to bring back wild animals as well as indigenous and exotic birds to Eland Sanctuary. The cyclone destroyed the perimeter fence resulting in some animals escaping, while others were swept away by the floods and mudslides. We are fencing the park as part of the rehabilitation programme," he said.
Activities such as hiking, bird watching, camping, golf, and swimming were also affected by Cyclone Idai.
There has also been a brighter side to the devastation that took place during Cyclone Idai as some old sites were left much more picturesque, while new breathtaking site were also formed.
Said veteran hotelier, Mr Willard Madhombiro: "Chimanimani's new look after Cyclone Idai is amazing. The new features such as natural stone works are profound, and these were formed after the tropical storm. They need to be harnessed.
"There are a lot of things to talk about in Chimanimani especially the mountains and the rehabilitation of Bridal Veil Falls. It has now been transformed into a unique and different tourism facility.
"There is also need to aggressively market agro-tourism. There is need to profile players in the agriculture sector in the district as the area is home to organic produce like bananas, pineapples, naartjies, sweet potatoes, macadamia, tea and coffee. If these crops are marketed, they will help to bring more tourists to the area."
However, even without much assistance, the tourism sector in Chimanimani has not been sleeping, and waiting for alms.
Chimanimani Tourism Association official, Ms Jane High said: "We have used the Covid-19 lockdown period to retrain our local mountain guides. Local tourism players joined hands to come up with a new, and world class hiking trail. The Mbira Trail takes in the full length of the Chimanimani Mountain Range from Chikukwa in the north, to Tilbury in the south.
"Our local mountain guides are now promoting the Mbira Trail. They are including mbira players, and musicians in this initiative. Local livelihoods based around this hiking route are set to enjoy the resurgence of tourism.
"So great is the potential of The Mbira Trail and Zimbabwe Big Five Hikes. They compare well with the most famous, world renowned hikes such as the Otter Trail in South Africa, and the Appalachian Trail in the USA.
"Efforts from Government, and development partners such as UNOPS to rehabilitate the infrastructure such as roads have had a very positive effect for us. In addition, UNESCO have invited local communities to come up with an application to have Chimanimani designated as a Biosphere Reserve.
"Tourism players have been fully involved. Our participation has been welcomed by the entire community including farmers, retail businesses, and the forestry sector."
Ms High underscored the importance of the opening up of Cashel Border Post in boosting tourism in the area.
"Our local legislator, Honourable Joshua Sacco has promised to facilitate the opening of the Cashel Border Post to tourism. If this comes to fruition, it will be a game changer. It will certainly go a long way in boosting the tourism industry in Chimanimani. In a nutshell, prospects for Chimanimani tourism industry post Idai are good if all necessary interventions are in place," said Ms High.