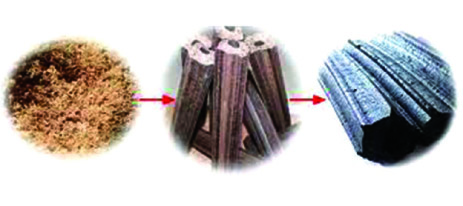 The ManicaPost
Ray Bande
Senior Reporter
IN the midst of a biting cold weather spell, precipitated by a lengthy winter season, chicken breeders are desperately seeking effective sources of heat to keep their birds warm.
Charcoal provides a convenient alternative.
Braai is also now the in-thing at almost all leisure centres dotted across the country and charcoal provides a convenient source of energy to ensure quality output of the consumables.
Cooking and heating up homes in the absence of electricity has also seen many turning to charcoal.
Health related problems such as skin infections and tooth yellowing have also seen charcoal being used to provide effective remedy.
The list of charcoal uses is long.
This has resulted in increased demand for charcoal and brisk business for those selling the product.
Regrettably, charcoal production has left a trail of woodlands destruction, especially in the once picturesque and densely vegetated Eastern Highlands as well as the Muzarabani area where illegal logging for charcoal production is well pronounced.
This is coming with an unbearable cost to the environment.
This has pushed Mutare youthful entrepreneurs, Messers Tichaona Matte and Tendai Chipatiso — who have been friends since their childhood days — to make a significant breakthrough in converting the sawdust that comes from timber production into charcoal briquettes.
With great benefit to the environment, the two formed a renewable energy company – Fuel Flip Technologies – which deals in biomass utilisation systems with major emphasis on waste to energy.
"We are mainly into biomass utilisation systems and our major area of focus is waste to energy. Our current project is on charcoal briquettes as a measure to handle sawdust waste in Mutare as well as to solve the heating and cooking energy challenges.
"We are making the briquettes using wood sawmill waste, sawdust and chips. We designed the process we are using and developed it in-house. The plant we are currently running is a pilot one and the results have been good because we are getting orders from all across the country," said Mr Matte.
To their credit, within the short space of time they have been operational, their formally registered company is already producing pre-paid bulk orders.
The United Nations Development Programme even provided funding and technical assistance to the entrepreneurs through its Youth Connect Initiative.
In their production process, sawdust is placed in the pyrolysis reactor where it is burnt under limited oxygen conditions, a stage that produces char.
The char is then mixed with a binding agent and compressed to form the briquettes which are then left to harden.
While many youths complain about lack of formal employment, Messrs Matte and Chipatiso are living examples of how Education Curriculum 5.0 assists graduates to use the knowledge acquired in the country's learning institutions to employ themselves.
Mr Matte is a bio-technology and chemical engineer who graduated from the Chinhoyi University of Technology.
He is furthering his studies with the Durban University of Technology after transferring his credits from the Manicaland State University of Applied Sciences.
Mr Chipatiso is into business management and entrepreneurship.
"We had this idea after going through college in 2016 but the actual briquettes project rolled into life in 2018. We registered the company in 2019.
Their efforts are not going in vain and to date, they are growing from strength to strength.
"We have scaled up production. When we started operating, we were selling locally to chicken breeders and households around Mutare because we were operating from the backyard. We have since moved to our new site, which is bigger," said Mr Matte.
The pilot project processes between 800kgs to a tonne a day.
The duo's environment friendly initiative has been recognised by one of the world's largest energy institutions — The World Energy Council.
Mr Matte was awarded the first runner-up prize for the Africa Energy Innovator for the Year in 2018 at the Africa Energy Indaba in South Africa.