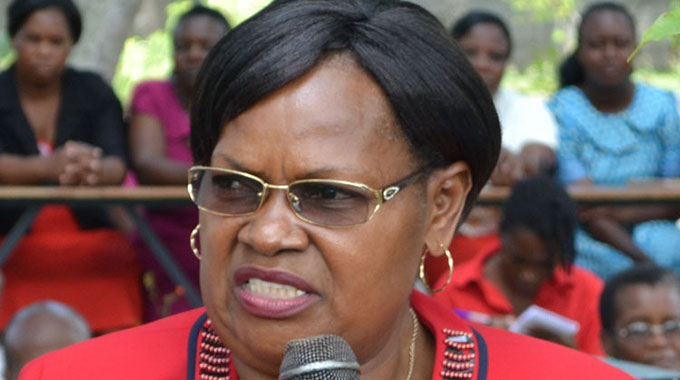 The ManicaPost
Nyore Madzianike Senior Reporter
ZANU-PF candidate for Mutare Central, Dr Nancy Saungweme, believes she has answers to a plethora of challenges haunting the urban constituency.
She has promised to rejuvenate Sakubva through a number of urban renewal and developmental initiatives.
Dr Saungweme will battle it out against the incumbent Mr Innocent Gonese (MDC-Alliance), Mr Emmanuel Mauya (NCA), Mr Brian Sampindi (People's Rainbow Coalition), Engineer Patrick Chitaka (Independent), Mr Marvin Rumhungwe (MDC-T), Mr Mutasa Masiyiwa (ZDU), Mr Mushunje Appross (ZIPP).
Her commitment to uplift the standards of living of people of Mutare Central and Sakubva in particular, has propelled her to undertake various projects and community initiatives that have started bearing positive results.
"My heart bleeds for Mutare Central constituency. I grew up in Sakubva and it is disheartening to witness things going down with each passing day. Leaders who were responsible for developing the area neglected their roles. They ignored the need to take care of and improve the standard of living of the people. The living conditions of people of Mutare Central are appalling, unimaginable and dire. Faced with such a scenario, and being a daughter from Sakubva, I decided to take it upon myself to uplift the people's standards of living," she said.
Dr Saungweme, being a renowned land developer, has helped with the maintenance of roads in Sakubva and on several occasions, provided her own refuse trucks for garbage collection around Sakubva.
A member of Zanu-PF provincial executive committee, Dr Saungweme, through her community initiative programmes, committed funds towards maintenance and repairing of Matida Hostels.
"I have also undertaken some food-for-work programmes which are currently underway. These food-for-work programmes have benefited many families. I have also started poultry projects and financed some of the under privileged families," she said.
The aspiring candidate has also assisted with installation of electricity at Dangare Primary School library and donated 20 computers to Zamba Primary School.
She has also facilitated for the establishment of a community information centre at Sakubva Post Office.
Dr Saungweme also extended a helping hand to Zororai Old People's Home where she donated some clothes, food and fuel.
"I also pay school fees for 16 primary, 14 secondary and 10 tertiary students from Mutare Central," she said.
She said some residents in Sakubva have been fighting with Mutare City Council for home ownerships and took it upon herself to press the local authority to own up to the residents' demands.
''She hired a land developer to undertake surveys required by council.
Dr Saungweme said once voted into office on Monday, she will prioritise the issue of home ownership in Sakubva.
"I have paid rates for some residents in Sakubva. The issue of rates and service delivery has been of concern in Sakubva and I am going to take it upon myself to make sure that service delivery improves.
''I made a lot of effort to engage council over services delivery, but the leadership has turned a deaf ear on me and the residents. All that will come to pass when I assume my legislative role for Mutare Central," she said.
Dr Saungweme also provided financial assistance to various groups of people from Sakubva to venture into cross-border trading and income generating projects for youths.
"I have been engaging vendors and heard their concerns. Through the good work of the Government, there is a new vending mart which is being constructed at Sakubva Musika. I will make sure that another market is constructed to accommodate those who will fail to get stalls at the one currently under construction," she said.
She said apart from employing people of Sakubva at her flourishing business empire Aloe Enterprises, has plans to open employment opportunities through various developmental projects. "Over the years, I have been assisting bereaved families with transport, money and food.
''I have also assisted under privileged families with food hampers and other necessities," she said.
Today, Dr Saungweme, will hold a road show where various artistes are expected to entertain people.
"Tomorrow we will have a sports gala where teams drawn from Sakubva will compete. We have various sporting disciplines that teams and individuals will participate and win prizes," she said.