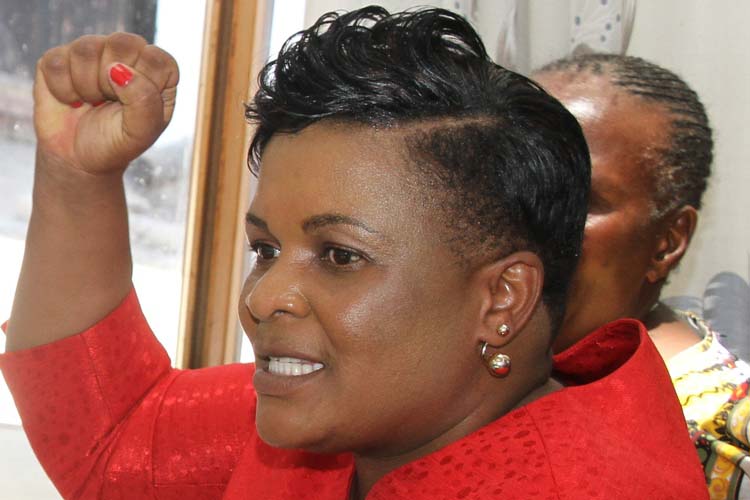 The ManicaPost
Liberty Dube Post Correspondent
ZANU-PF Nyanga North aspiring candidate Cde Chido Sanyatwe has for the past five years been working tirelessly behind the scenes to address a litany of socio-economic and developmental challenges bedevilling the drought-prone and marginalised constituency.
And with the 2018 harmonised elections on the horizon, Cde Sanyatwe, who is wife of Brigadier-General Anselem Sanyatwe, has been engaging and canvassing for the endorsement of constituents on July 30, and the response has been overwhelming.
Cde Sanyatwe will face MDC-Alliance's Mr Chenjerai Solomon Matoro, Mr Maxwell Kapomba of the People's Rainbow Coalition, Mr Bruce Blessing Kicheni, Mr Lovemore Chibvura of National Patriotic Front  and Mr Sarudzai Chatsanga, an independent candidate.
Cde Sanyatwe, who is on verge of making history by becoming the first female legislator for the drought-prone constituency since the country's independence in 1980, has played a critical role to improve livelihoods through self-sustenance projects such as poultry production.
The constituency falls in natural region five and there is urgent need of boreholes and irrigation facilities. Some other needs include drinking water facilities, education, health, sanitation, irrigation and agriculture; special interests such as youth, women and people with disabilities; access to justice, security, gender; roads and transport; land, culture and sports; environment; mining and business.
Villagers travel long distances to access schools and health facilities.
Most roads in the constituency are impassable and need rehabilitation, particularly those near the Mozambican border such as Nyamaropa (Ward 12), Nyakomba (Ward 11), Nyamasara (Ward 5), Kazozo (Ward 3), Fombe (Ward 1) and Sabvure (Ward 10).
The constituency is endowed with natural resources such as asbestos and gold which can benefit the villagers if harnessed accountably.
"After realising that the constituency has limited sources of water, and villagers were getting water from open sources, thereby exposing themselves to water borne diseases, we came up with a programme to repair dysfunctional boreholes and drill new ones.
"Villagers here depend on livestock but some of the cattle have been dying because they would travel for long distances to find drinking water and pastures.
We alleviated the crisis by constructing a state-of-art dip tank which is benefiting scores of villagers in Ward 9. I handed over 60 bags of cement for the construction of ablution blocks at Chaparatongo Primary School after it had closed the toilets.
I also constructed an ECD centre at Sanhanhi Primary School in Ruwangwe," she said.
After being touched by the sorry plight of pregnant mothers who would travel long distances to acquire health services, particularly during labour, Cde Sanyatwe constructed a mothers' shelter in Ward 9.
She is also currently assisting with cement for the construction of Gotekote Bridge in Ward 7 which was swept away a few years ago.
She handed over 20 bags of cement for the construction of mass graves in Munemo in Ward 6 to show her respect of the fallen liberation war heroes and heroines. Human resources and cement for the rehabilitation and construction of Mukunza, Sanhanhi and Mbiriyadi clinics.
She is running poultry projects benefiting scores of villagers in Ward 9.
"I have managed to meet the electorate in all the wards, outlining how we have managed to address challenges facing the constituency.
"All my rallies were well-attended and I am glad that the electorate has been appreciating our efforts to better things in the constituency.
"I have been urging them to vote for our Zanu PF, that is our President Mnangagwa, myself and the line-up of councillors on July 30.
There is a need to look into the future and I have a long-term catalogue of developmental projects for the constituency.
"A lot of work still needs to be done. I have Nyanga North at heart and I have been working tirelessly over the years bringing a plethora of challenges to Government's attention.
"We intend to engage the Minister of Environment, Water and Climate Cde Oppah Muchinguri so that we are incorporated in Command Fisheries and Livestock and water harvesting. Water is critical for farming of small grain, groundnuts and sorghum production.
"Villagers such as those involved in illegal gold panning, need to be empowered.
"It has not been easy because the area has been neglected for so many years," she said.
There are over 100 dysfunctional boreholes that need to be resuscitated while out of  the 16 clinics in the constituency, only 10 are functional. The clinics have also been plagued by shortage of drugs.
Cde Sanyatwe is sourcing funds to assist in the reconstruction of Rwenya Bridge in Fombe which connects Nyanga and Mutoko in Mashonaland East. The bridge was swept away years ago.
The aspiring MP recently hosted a sports tournament which was attended by over 10 000 people from 10 wards in the constituency.
Athletes hailed the initiative saying it was long overdue in the area adding that Cde Sanyatwe's efforts must be both commended and emulated by the community as sports brings people of different backgrounds together in a relaxed and friendly environment.
Regular involvement in sport can benefit them and contribute to a range of positive outcomes including participating as volunteers in community life, having a greater voice and influence over decision-making, increased capacity to own community assets, manage and deliver services, more cohesive, tolerant, inclusive and value diversity, reduction in youth offending and anti-social behaviour, an increase in culture of respect and tolerance among young people, reduction in crime, alcohol and drug misuse.
The tourney delivered multiple benefits — communities gain lasting benefits from access to the infrastructure that Cde Sanyatwe helped rehabilitate at the schools and from having qualified coaches better equipped to develop community teams.
During the tournament, community businesses prospered as Cde Sanyatwe utilised them for catering, accommodation, security, and various other elements.
For rural youths, the programme provided new educational opportunities and contributed to improved class attendance rates, increased pass rates and improved physical fitness with an associated reduction in common illness.
Rural youths kept active by the programme are also less likely to become involved in destructive or antisocial behaviour, thanks to their participation in sports.
"Sports is a vital need. The tournaments we have held have helped to bring people together.
"We intend to bring in other sporting disciplines in schools but it seems there are no facilities and facilitators," added Cde Sanyatwe.