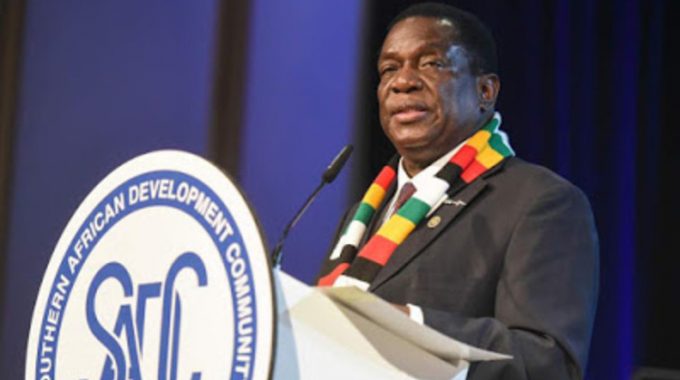 The ManicaPost
Shame Isaki Post Correspondent
IN a distinctive show of character, solidarity, objectivity and defiance, the Southern African Development Community (Sadc) recently endorsed Zimbabwe's elections and went one step further by appointing President Emmerson Mnangagwa the deputy chairperson of its Organ on Politics, Defence and Security Cooperation at the just ended 38th Sadc Summit of Heads of State and Government in Windhoek, Namibia.
The endorsement of Zimbabwe's recent elections by Sadc comes as no surprise since its observer mission had already given a positive report of its findings on the elections.
What is important to note though is that the regional body did not only endorse Zimbabwe's elections but also decided to entrust Zimbabwe with the responsibility of deputising its most important organ of politics, defence and security despite the fact that the opposition MDC Alliance filed court papers to challenge the presidential election results.
This, Sadc did despite the fact that the opposition had, as usual, sent protesters to Windhoek to obviously spoil the day for Zimbabwe like they did before when they invited sanctions against Zimbabwe in 2001. T
his time their feeble mumblings about an alleged stolen election fell on deaf ears, or rather were deservedly ignored because they had no basis.
Sadc has been in this game for long and the regional body now knows its customers in and out. Sadc now knows its political cry-babies, party-spoilers, mercenaries, sell-outs, and political pretenders who hide behind foreign non-governmental organisations to subvert constitutionally elected governments and heads of state.
Sadc is aware that MDC has been the darling of the West since its formation and that whenever Western governments back any African opposition groups there is bound to be trouble. Sadc is quite aware of the west's resentment of Africans and governments of revolutionary parties.
In the same vein, the sudden change of attitude towards Zimbabwe and its leadership by the same Western countries who were seemingly warming up to Zimbabwe after President Mnangagwa openly voiced his desire for Zimbabwe to do business with any nation of the world as long as it is mutually beneficial and out of respect of each country's sovereignty and territorial integrity smirked of hidden intentions.
President Mnangagwa repeatedly voiced his intentions to have Zimbabwe becoming a full member again of the international family.
Many nations welcomed this new development and pledged to support Zimbabwe regain its place.
The EU, Sadc, AU, US, UK, UN among other countries and international organisations gave positive feedback on Zimbabwe's new trajectory.
The President then showed the world that he meant business by promising and delivering a free, fair and credible election.
He opened up the election to several media organisations, journalists and thousands of observers.
There was no violence, intimidation or victimisation except for the stage-managed incident of Wednesday the 1st of August 2018.
When it became evidently clear that the MDC Alliance had been beaten clean by Zanu-PF, the threats to undermine the electoral process then began to manifest.
From what Nelson Chamisa had been saying prior to the elections, there was a bigger plan to subvert the Government of Zimbabwe.
The plan was to render this country ungovernable and to have the electoral process described as a sham and unfair but these plans were thwarted decisively. The first and foremost plan was to eliminate Mnangagwa because after Mugabe, the President is still a serious threat to the West's long held desire to have control over African countries for the sole purpose of exploiting their rich natural resources, Zimbabwe included.
The West knows Cde Mnangagwa's history as a liberator, soldier, security and defence supremo, lawyer and astute master strategist when it comes to politics and understanding of Africa's relationships with the West.
So, having a man like him leading Zimbabwe is not only undesirable but a serious setback to their unquenchable appetite to control African. Africa has awakened to this awkward and racist onslaught no wonder Sadc has chosen to stand with its own and rightly so.
We stand or fall together for the right things.
Attempts by EU Ambassador, Mr Philipe Van Damme and British Ambassador, Ms Catriona Lang to discredit Zimbabwe's election on the basis of unfounded allegations of human rights violations following a damning report by Dr Frances Lovemore of Counselling Service Unit, a dubious NGO are not only acceptable but diplomatically dangerous.
We can consult or share developmental ideas with the West but they cannot dictate to us what to do or not. Every engagement must be out of mutual respect and laid down diplomatic procedures. Zimbabwe has passed the election test.
The world is saying sanctions must go. They were not even justified in the first place. With or without the sanctions, Zimbabwe and Zimbabweans will make things work again and the world at least now knows who the real culprits are.
President Emmerson Dambudzo Mnangagwa's value to the entire African continent and the world at large cannot be over-emphasised and because of that the West is not amused. They are terrified. Thank you Sadc.