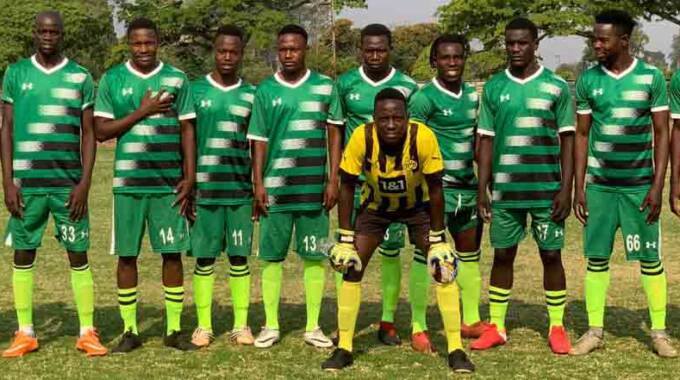 The ManicaPost
Ray Bande
Senior Reporter
CHIMANIMANI-BASED outfit, Rusitu Tigers, have surprised everyone, including themselves with a polished performance in the 2023 ZIFA Eastern Region Division One League which has left them in contention for Premier Soccer League promotion.
Rusitu Tigers have won 13 matches, the same number of matches that log leaders, FC WanguMazodze have won after 21 rounds of league matches.
With a goal tally of 36, Rusitu Tigers have scored the highest number of goals in this riveting title race, a massive 17 goals more than the 19 scored so far by the Masvingo-based log leaders.
That only puts into context the seriousness that Rusitu Tigers have shown in their maiden Division One season, and only if Lady Luck smiles at the club, Premiership football could be on its way to the banana producing area of Rusitu, down in the undulating terrain of Chimanimani District.
Their coach, Prince 'Skilo' Tafirenyika is correct to think that, given their performance and their position on the table, championship is now within striking distance.
"As we were fighting to survive, we discovered some endless possibilities. The mid-season break saw us sitting down and planning for the promotion and it is coming out quite well, but we must not take it for granted. We need to be ready in all spheres," said Tafirenyika.
Rusitu Tigers will carry on with their hunting expedition at Vengere Stadium on Sunday when they face Tenax FC in a potentially explosive encounter that will have a huge bearing on the title race.
Tafirenyika knows that for them to be champions, it is matches like these they must win.
"We must win big matches like our coming match against Tenax FC so that we can be promoted," said Tafirenyika.
But how did Rusitu Tigers come all the way to become the ZIFA Eastern Region Division One League major surprise package?
The former Buffaloes and Mutare Polytechnic assistant coach, Tafirenyika said: "It is all about teamwork, hard work, dedication and above all God first. Our next match is also the toughest of them all.
"We will go into that match as usual, treating each match as it comes. Remember, our team is still new, and we will be very cautious against the former PSL club, Tenax FC."
Tenax coach, Luke Petros-Jukulile said: "The match against Rusitu Tigers is a tricky assignment. Just like the match we played against Mutare City last weekend, with Lady Luck on their side, they could have hammered us. It is more of another derby against Rusitu Tigers.
"We are quite aware that they are a threat, and we respect them like any other opponent in this league. It will be good for us to collect maximum points against a team in the race. Rusitu Tigers will not walk away with three points on a silver platter. If they win it, they just have to work hard and pay for it. We urge all our supporters to come in their numbers and support the team at Vengere Stadium in Rusape. Let us walk this journey together."
Eastern Region Division One League Week 23 Fixtures:
Saturday: FC Hunters v Chiredzi Stars (Rudhaka Stadium); Midway v JM Busha (Vengere Stadium);
Sunday: Buffaloes v Wangu Mazodze (Mutare Show Grounds); Renco Mine v Bikita Minerals (Maramba Stadium); Grayham v Manica U-19 (Chiremba School Ground); Masvingo Utd v Mutare City (Mucheke Stadium) and Tenax v Rusitu Tigers (Vengere Stadium)