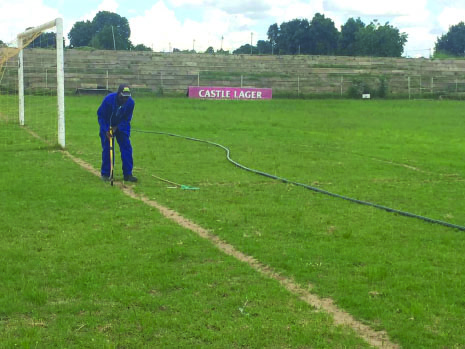 The ManicaPost
Lovemore Kadzura
Rusape Resident
RUSAPE Town Council has effectively given up on further upgrades on Vengere Stadium to meet minimum Premier Soccer League requirements, citing lack of resources.
ZIFA's First Board of Instance recommended that Vengere Stadium requires touch-ups on the dressing room and goalposts which the local authority did.
However, the First Board of Instance further requested the local authority to have a complete overhaul of the playing turf, a demand that is proving to be well beyond the reach of the financially struggling local authority.
The pitch suffered from overuse last season as it played host to four PSL teams: Black Rhinos, Cranborne Bullets, Manica Diamonds and Tenax.
Rusape Town Council drilled a borehole for constant watering of the pitch, but the FBI said there is need for new lawn and levelling of the playing surface.
A number of visiting teams complained on the state of the pitch which they said was not proper for top-flight football.
Rusape Town Council's director of housing and community services, Morris Tekwa told Post Sport that in as much they want to have Vengere Stadium continue hosting PSL games, they cannot sacrifice the few resources they have to attend to the pitch when the have other service delivery matters to attend to.
"We have done most of the requirements on the stadium. We were ordered to repair the changing rooms, paint goalposts and make water constantly available and to remove the lawn and plant new one. We have attended to the other requirements and at the moment we do not have the resources to put up a new turf.
"The cost associated with that exercise is beyond our reach at the moment. We have other pressing and critical areas which deserve more attention than the stadium," said Tekwa.
Vengere Stadium has been the only reliable match venue in the province since 2015 and hosted teams such as Dongo Sawmills, Buffaloes and Mutare City Rovers, among others.