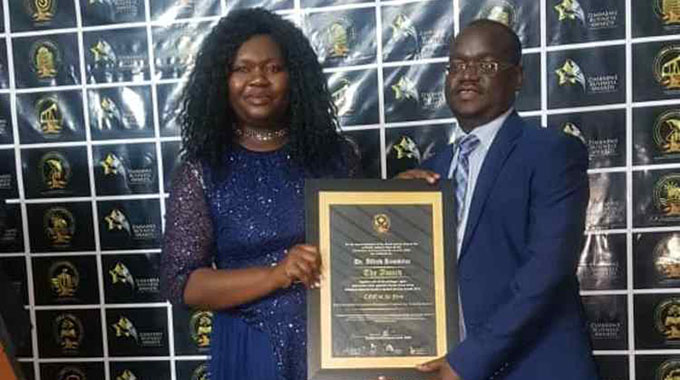 The ManicaPost
Business Correspondent
A RUSAPE medical centre and its chief executive officer have been honoured for their sterling contribution to the country's health delivery system by the Zimbabwe Business Awards Council for the Zimbabwe National Health and Medical Services Awards and the Health and Medical Services Magazine Launch.
Rusape 24 Hour Medical Centre was last week named the medical citadel of the year (2018) while its founding co-director Dr Alfred Kumbirai was named CEO of the year (2018). The awards, held last week in Harare, recognised their work in patient care, support of colleagues, innovativeness and training of all grades of staff including teaching medical students. The centre was founded in 2014 by co-directors Dr Kumbirai (35) , a holder of Bachelor of Medicine and Bachelor of Surgery Degrees (MBChB) from the University of Zimbabwe and his wife Nyengeterai Makumbe Kumbirai (33), a holder of Bachelor of Commerce (Marketing Honours) Degree, from the Great Zimbabwe University.
The centre has four major divisions namely the outpatient, hospital care, maternity and radiology (X-ray and ultrasound scan). It has a wider base of clients ranging from business executive, private and mission schools, NGOs and corporates and society at large, and accepts medical aid cards.
"I am very honoured to receive this award because it is the highest honour and form of national recognition bestowed upon any medical institution in health and medical services in Zimbabwe.
"I feel very proud to have been recognised for our contribution to patient care and training colleagues, our insightful, inventive leadership and dedicated service to the medical community in the country," said Dr Kumbirai.
Dr Kumbirai was recognised for guiding, directing, modernising and inspiring the health delivery system in the country.
"He has always shown huge commitment to his patients, and has been willing to learn and take on new responsibilities, inventing and managing new programmes at the centre, with distinction, from its inception.
"Even with many years of clinical experience and expertise, he was always been humble, and not afraid to call for advice to ensure that his patients received the best possible level of care," reads his urology prior to receiving the wards.