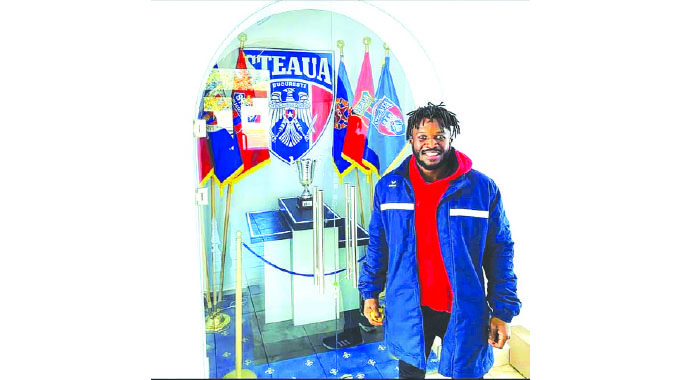 The ManicaPost
Ray Bande
Senior Reporter
MUTARE-BORN Zimbabwe international player, Ngoni Chibuwe, has joined a new club on a three-year contract in the Romania Supa Liga – Steaua Bucharest – where he says he is fitting in well.
The Sables player made his way into the Romania Supa Liga just before the 2019 rugby season after his marriage with Spanish giants, Getxo, ended prematurely.
The soft spoken, yet steely rugby player, said he was humbled by the hearty welcome he received upon joining the new club.
"I have just arrived at a new club, Steaua Bucharest. All focus is on giving my all to the club. They really welcomed me in true sportsmanship spirit.
"I am really blessed to be part of the team. I am looking forward to tear it up in the next three years in the red and blue jersey," said Chibuwe in an interview with Post Sport from Romania this week.
Narrating how he grew up in Sakubva and how he accidentally played rugby instead of following his passion for cricket, Chibuwe heartily thanked all those who helped in shaping his career path.
"The journey continues. I am really grateful to all those who have been part of my journey from Sakubva at Mutanda Primary School. My heart is always with my people and I am motivated more than ever. I would love to see a couple of youngsters do more through the sport.
"I am not where I want to be, but thank God I am not where I used to be. I am grateful and the key is honest work and consistency. I am going to do just that.
"It was my brother, Zorodzai Chibuwe, who introduced me to cricket when I was in Grade Three. I would stay behind in the afternoon and play cricket with the seniors. In Grade Four I was already playing for the first team with the help of coaches like Kudzai Tasa, among others," he said.
He recalled his parents' support.
"I remember walking from Sakubva to Mutare Sports Club every weekend to play cricket, eating sweet potatoes on our way. Life was beautiful. I was lucky to have very supportive parents. My dad is a hero. He was very supportive and stuck with me through thick and thin. I would have loved to celebrate more with him, but he is no longer with us. My mom was always there for me as well.
"A lot of parents discourage their kids to play sports. However, my parents let me pursue my dreams. I just ensured a balance between academics and sports.
"I was then introduced to rugby at one of the sleeping giants is schools sports in Zimbabwe – Mutare Boys High School. But the actual shift to rugby came when I got a place at The Sharks Academy after completing my A-Level at Hillcrest. I would have loved to pursue cricket but there were no cricket opportunities at hand after high school," he said.
Before his latest move, Chibuwe was in the Tomitanii Rugby Club books.
Chibuwe, who hails from Dangamvura, Mutare, attended Mutanda Primary School in Sakubva, Mutare Boys' High School and later Hillcrest College, before moving to South Africa to join the Shark Academy side.
His professional rugby career began in 2015 after he was drafted into the Sharks Sevens rugby side.
During the same year, he received his first Sables cap after being drafted into the squad for the Hong Kong Cup of Nations tournament.
Ever since then, his career has been on an upward trajectory as he went on to make the Sharks' squad for the 2017 Currie Cup qualifiers.
Recently, he has also established himself as a key member of the Cheetahs squad, playing a key role in the World Cup qualifiers.
Chibuwe has featured in almost all the team's matches at the global showpiece.
He has featured for Old Georgians locally and South African club Durban Collegians.
Chibuwe is also heavily involved in the development of Mutare's rugby after launching his rugby academy, Hearts of Stones, in 2017.