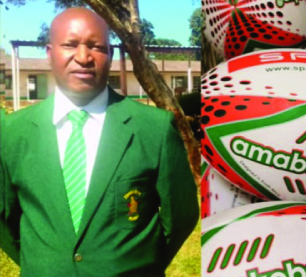 The ManicaPost
Ray Bande
Senior Reporter
MANICALAND Rugby Board has not taken feet off the pedal in its development drive after taking delivery of 142 balls meant to be distributed to remote areas around the province.
MRB has been on a rural rugby drive for a long time that saw the birth and popularity of Sahumani Secondary School girls' rugby team that has become the pride of the game in the province.
MRB chairperson, Josiah Borerwe confirmed the arrival of the consignment of 142 balls.
"We received the first batch of rugby balls we bought from South Africa. We want to distribute them to marginalised areas in the province in-line with our thrust to develop the game in all parts of Manicaland.
"We have realised that there is abundant talent even in remote areas, hence the deliberate move to ensure that youths in remote areas get all the necessary equipment needed for them to perfect their skills in the game of rugby," said Borerwe.
The MRB chairman also confirmed that Sahumani girls rugby team will soon be receiving a full kit sponsored by Zimbabwe Rugby Union president, Aaron Jani.
"We are also happy that we have the support of the national leadership of the game in our developmental efforts. Our Zimbabwe Rugby Union president, Aaron Jani has bought a new kit for Sahumani community club. We will soon be making an official presentation," said Borerwe.
Jani is no stranger in assisting Sahumani after championing a number of initiatives in the past that saw Sahumani Secondary girls' rugby club benefiting in its efforts to develop the standards of the game in Honde Valley.
Meanwhile, the MRB boss says they continue urging their players to shift their mindset and start different income generating projects as survival tactics have since altered owing to the Covid-19 pandemic restrictions.
Rugby, just like many other sport genres have been put on ice owing to the ravaging Covid-19 pandemic, leaving players and coaches without their normal income avenues.
Borerwe said the fact that no one really knows when the pandemic will end or when it will be suitable for the restrictions to be lifted makes it inevitable for players and coaches to embark on other forms of income generating projects.
He said this is also the time to undertake online coaching courses for players and for coaches to further their studies.