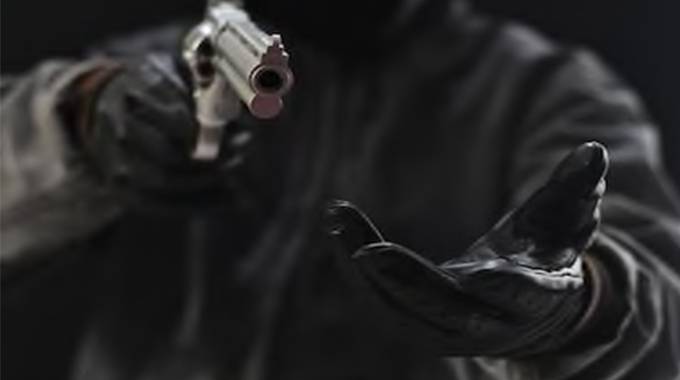 The ManicaPost
Moffat Mungazi
Post Reporter
"FOR a moment, as time appeared to stand still, I thought our lives would be wiped out in that instant. We had surrendered all the money we had in the house, but this gang of six men armed with all sorts of weapons kept holding out for more.
"It was painful to watch my wife, children and maid tortured while I could not defend them," said Milos Saungweme (not real name) of Greenside Extension, Mutare, as he narrated a harrowing ordeal at the hands of robbers that besieged his home in November 2021.
Saungweme is a second-hand clothes merchant who procures bales for clients in neighbouring Mozambique.
The gang pounced on him on the eve of his departure to Mozambique and made good their escape with a large sum of American dollars.
"They must have got information that I had cash at that time after collecting money from my clients. Their raid appeared well-timed. They turned the house upside down before threatening to rape my wife, daughter and maid. I gave them US$17 340 cash," he said.
As sleek operators, the robbers had poisoned Saungweme's dogs and also cut the power source to disable the wired security system alarm.
Barely three weeks earlier, another victim, just a few houses down the road in same hood, had been hit by robbers.
The prey in this case was a foreign currency dealer.
The robbers used the BMW car parked in his yard to flee the scene.
An unspecified amount of US dollars, rand, pula and Zimbabwean dollars was lost in the robbery.
Both cases were not reported to the police, ostensibly owing to the illegal nature of the victims' trades.
But the two incidents are just a tip of the iceberg of a disturbing spike in robbery cases in the province.
Lives, money and property have been lost in attacks by ruthless criminal elements.
In some dreadful situations, the marauding gangs indiscriminately assault and rape their victims.
Investigations by the police have shown that armed robberies are sometimes pre-planned and well-orchestrated as some involve movie-style stunts.
Easy targets
Businesses or individuals who keep large sums of cash are often easy targets.
Even places manned by security guards have not been spared.
Of late, armed robbers have also been targeting long distance buses, especially those ferrying cross-border traders.
Cash-in-transit heists have also become a common occurrence, with the latest local high profile being the one involving three Securico Services guards who were recently arrested in connection with the theft of US$60 390 meant for refugee allowances at the Tongogara Refugee Camp in Chipinge.
The assailants are usually armed with rifles, pistols, catapults, hammers, knives, machetes, iron bars and other dangerous weaponry.
The weapons are carried, and sometimes used, as a means to cow the victims into meek submission.
The robbers then help themselves to cash and other valuables like laptops, jewellery and expensive smartphones.
Menace to society
Suspicion is rife that security guards, house helpers and close relatives are conniving with criminals or stage-managing armed robberies.
Some armed robbers have allegedly been committed by rouge members of the security forces.
However, the criminals are living on borrowed time as they have been sternly warned that their despicable acts cannot be tolerated.
President Mnangagwa has already read the riot act.
"Lately, we have witnessed an upsurge in gun-related crimes. There is a clear upsurge in abuse of firearms, including violent armed robberies.
"Government now treats this as a grave threat to personal and national security. Decisive measures have now become necessary to put an end to this growing menace which threatens our otherwise peaceful, law-abiding nation and citizenry. Those who dabble in arms will soon fall by the sword. Let them be warned," said the President.
Manicaland last year recorded a surge in violent crimes, including armed robberies.
Constitutional Court Judge, Justice Rita Makarau, early this week said cases in which robbers used firearms have become a thorn in the flesh in Manicaland and beyond.
She said 24 armed robberies involving firearms were reported across Manicaland in 2021, while armed robberies in which the suspects used other weapons that were not firearms were 33.
Up in arms
The police have declared zero tolerance to armed robbers and are taking the war to the culprits.
In an interview with The Manica Post, national police spokesperson, Assistant Commissioner Paul Nyathi revealed that the country recorded 922 armed robberies between January and October last year.
He said they managed to arrest 849 suspects in connection with the cases and are well-equipped to deal with the scourge.
"As you are aware, we were given brand new all-terrain vehicles for the CID Homicide Section and also a substantial amount of fuel for operations. We are well equipped to fight armed robberies. The police are ready to stamp out armed robberies," said Assistant Commissioner Nyathi.
Warning, safety measures
Assistant Commissioner Nyathi appealed to the public to follow the advice given by the police for their own safety.
He warned people to desist from keeping large sums of cash in their homes as this makes them targets.
Assistant Commissioner Nyathi said in most cases, police investigations have established that insiders like relatives, friends or domestic workers usually supply information to the armed robbers.
The robberies then become inside jobs.
"We are urging individuals to play their part in preventing armed robberies by keeping large sums of money at banks and not in their homes. People must also be wary of who comes in their homes as these may supply information to criminals," he said.
He implored the public to report all armed robbery cases to the police so that they carry out investigations and bring the culprits to book.