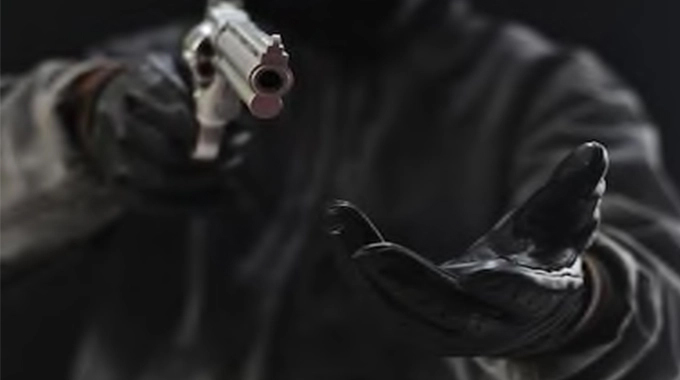 The ManicaPost
Samuel Kadungure
Senior Reporter
FIVE robbers wearing balaclavas pounced on Rusape businessman, Mr Joseph Mano and robbed him of US$1 500, cellphones, designer clothes and shoes at gunpoint last Friday.
Mr Mano is married to the late business mogul, Ms Loveness Nyamundanda's second daughter, Tafadzwa.
Only two months ago, a gang led by Musafare Mupamhanga, who was arrested in a shoot-out with the police, pounced on Mr Prosper Mudoweti, who is also married to the deceased business mogul's first daughter, Nyasha and robbed him US$500, two cellphones, laptops and other valuables.
Last weekend's incident happened a few hours after an alert message had been circulated on the social media that some suspected armed robbers had been spotted roaming around the town.
Part of the money stolen from Mr Mano belonged to a local Pentecostal church where he is a treasurer.
The gang also allegedly took keys to his Toyota Lexus and Mercedes Benz vehicles.
Mr Mano was at home with his two children and a maid, Ms Irene Chikwasha. His wife, Mrs Tafadzwa Mano had just been blessed with a baby girl at a local clinic.
Rusape District police spokesperson, Assistant Inspector Muzondiwa Clean confirmed the robbery which occurred at Mr Mano's Crocodile house and said no one was injured.
He said the robbers were armed with a gun, hoes with wooden handles, logs and knobkerries.
The hoes and logs were recovered from the scene.
They allegedly left the scene on foot.
The gateway car is suspected to have been parked at a distance.
"Five unknown armed robbers pounced on Mr Mano who was in his bedroom. His maid, Ms Chikwasha was in a separate room.
"All the suspects were wearing balaclavas and gained entrance through an unlocked door around 9pm. They tied Mr Mano's hands at the back using a rope and demanded cash.
"Mr Mano complied and handed over US$900 that was in the wardrobe and another US$500 that was in a cash-box. They took his cellphone and several pairs of shoes and clothes," said Assistant Inspector Clean.
He said two of the robbers went into the room where Ms Chikwasha was and demanded cash.
"She told them that she had no money and they took her cellphone. They dragged her to Mr Mano's bedroom and tied her hands at the back.
"It seems the armed robbers are working with local moles targeting businesspeople. We therefore urge businesspeople to tighten security at their premises and homes. They should not keep large sums of money at home," said Assistant Inspector Clean.
In an interview with The Manica Post, a dejected Mr Mano said the criminals first tempered with security lights at his house.
"The lights kept tripping each time I tried to fix them, but I never suspected anything. I was shocked as I was resting on the bed to see five armed people entering my bedroom. One of them pointed a gun at me. They tied my hands at the back and demanded money. They stole US$1 500, but they were not satisfied and kept demanding more money.
"They ransacked and turned my bedroom upside down looking for money. They demanded the car keys for my BMWs and searched them looking for money. They took turns to change and fit my shoes and clothes, before taking 20 pairs of the shoes and an assortment of clothes. They ate my sadza as well as yoghurts and snacks for my kids.
"My wife was at hospital where she had delivered a baby girl. They held me hostage for about an hour and half. They took the gloss off our celebration for the new addition to our family," said Mr Mano.
Those with information about this incident should report at ZRP Rusape Central Police Station on 0225205 2251/2 or their nearest police station.