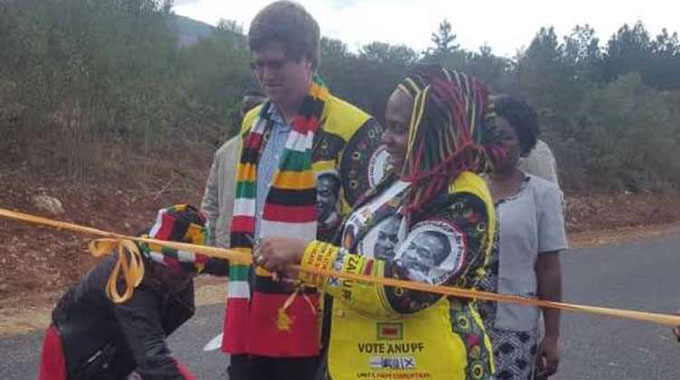 The ManicaPost
Abel Zhakata Senior Reporter
THE accelerated rehabilitation of roads in agricultural rich districts of Manicaland has brought smiles to many farmers who were having difficulties to transport their produce to the markets.
While officially opening the 4,1 km Charter-Tilbury Road recently, the Minister of State for Manicaland Provincial Affairs, Cde Monica Mutsvangwa, said local farmers were falling prey to unscrupulous transport operators who were charging exorbitant rates to transport produce to markets.
"We would like to thank the Government and Zinara for making this dream come true. For decades this road was impassable. It had big rock outcrops and transporters shunned it. This road project commenced in April this year but look it is already finished. This is the work of the new dispensation under the leadership of President Mnangagwa.
"The construction of this road will aid timber production in Chimanimani, it will ensure smooth movement of farm produce to the cities. Farmers were being short-changed by transporters but we now believe that it's now a thing of the past," she said.
Manicaland provincial roads engineer Arnold Mutungwazi said the completion of the Chimanimani-Tilbury Road would be a game changer in the district in terms of aiding development.
"This road is going to help the local villagers because as you can see decent public transport vehicles are now visiting the area unlike before when the road network was bad. There is timber production which is taking place in this area and the way we designed the road unable it to withstand heavy loads of haulage trucks laden with timber.
"This area is agriculturally rich and the construction of this road will help in the quick movement of perishable agricultural products like bananas and avocados to nearby markets," he said.
The Chimanimani-Tilbury Road was subcontracted to Bitumen World. Its initial cost was $560 000 but due to some extra works that were carried out to remove the rock boulders which were also ground to make concrete stones the cost shot up to $700 000.
The Government has so far released $30 million since the beginning of the year to the Emergency Road Rehabilitation Programme in Manicaland to repair and reconstruct major roads in the province that had suffered from years of neglect and adverse weather conditions. The funding was availed by the Zimbabwe National Roads Administration and the Ministry of Finance and Economic Development.
At least $200 million is required to do a complete overhaul of roads in the province.