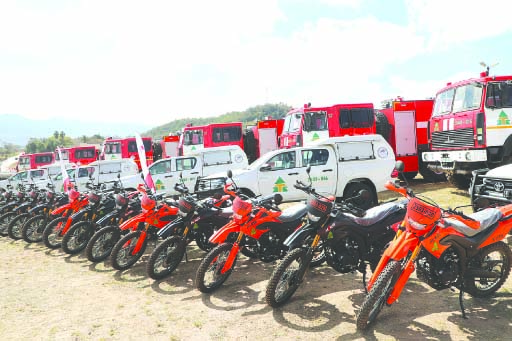 The ManicaPost
Ray Bande
Senior Reporter
NOT so long ago, a stress grading machine used in the value addition of timber products was moved from Allied Timbers' Nyakamete industrial site in Mutare as asset stripping took its toll on the State-owned timber producing company.
No one seemed to care as equipment went obsolete.
The Antediluvian Door Plant machinery that was at the same site was no longer working.
The six-cutter machine employed in the main product blundering was also almost obsolete given the lengthy period that the machinery had been used.
The MTA Press machinery used for joining timber figures in the laminating section was equally old.
The incinerator at the Allied Timbers-owned Erin Estate was a time bomb as it continued to be used in its dilapidated state, thereby posing danger to employees.
The few remaining contractors that were doing various jobs for Allied Timbers were dragging their feet owing to outstanding payment of services rendered.
To make matters worse, cases of employees collapsing during working hours due to hunger and fatigue were common as the company reeled under months of wage arrears, with the timber producing concern failing to meet its salary obligations.
The story state of affairs at the company was characterised by antiquated machinery, shocking assert stripping and poor employee morale.
A free for all situation obtained at the company as alleged uncontrolled looting of asserts became the norm.
Apart from this, Allied Timbers' premises in Nyakamete Industrial area turned into an eyesore.
It resembled a dejected fortress.
But today, fruits of the Government-bankrolled Allied Timbers' retooling exercise are evident for all to see.
Things are clearly changing for the better.
Last week, some forestry equipment received under the Belarus facility was commissioned.
This includes four air-conditioned dump trucks for road gravelling, seven air-conditioned 30-ton trucks (6×4-WD) for log haulage, one low-bed carrier trailer for inter-estate movement of machinery and ten drop-side trucks (4×4-WD) for the movement of materials.
Thirty motorbikes will also be used for plantation protection patrols, while seven 5 000-litre fire tenders will be used for fire suppression.
The equipment comes with all critical spares.
During last Saturday's commissioning of the equipment, Environment, Climate, Tourism and Hospitality Industries Minister Mangaliso Ndlovu told the gathering that Allied Timbers Zimbabwe continues to be on a growth trajectory despite the several challenges it is facing, including Covid-19.
"The company's financial performance for the year ending December 31, 2020 is assuring us of the turnaround.
"You may be pleased to note that ATZ has just declared a dividend of US$5m," said Minister Ndlovu.
He said his ministry seeks to ensure that Allied Timbers fulfils its mandate of sustainably securing plantation forest products for the nation in line with the Forest Act.
"My ministry continues to provide an enabling policy environment for the forestry sector.
To secure the plantation forest resource, revenue generation ought to be guaranteed through production activities," he said.
Allied Timbers Zimbabwe is wholly owned by the Government of Zimbabwe and runs Erin Estate, Nyangui Estate, ATZ Saligna, Stapleford Estate, Cashel Estate, Gwindingwi Estate, Chimanimani Estate (Chisengu, Tarka and Martin Estate), Gungunyana Estate and Mutewu Estate (Mvuma).
Its operations include tree plantations, as well as harvesting, processing, marketing and retailing of pine and gum trees.
The company's operations are highly concentrated in the Eastern Highlands, Midlands and Matabeleland.
Allied Timbers specialises in sawn timber, poles, and other value added timber based products such as doors, flooring and block-boards and trusses, as well as honey.
The company exports its products to Botswana, Namibia, Mozambique and South Africa.