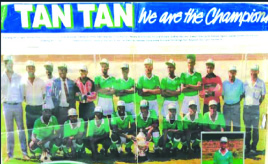 The ManicaPost
Ray Bande
Senior Reporter
AS the nation comes to terms with the death of legendary football player turned mentor, Misheck 'Scania' Chidzambwa, soccer fans in Manicaland will remember him as the only coach who brought a top-flight league silverware to the eastern border province.
Chidzambwa, who died last week, was buried at his rural home in Mhondoro on Monday.
From 1993 when the domestic top-flight league adopted its current format and in fact from the post independence era, the star-studded Tanganda FC Class of 1993 remains the only club to win a Premiership football trophy when it was under the tutelage of Chidzambwa.
For all Mutare Premiership teams, not even the exciting Buffaloes of the Ndombolo fame, neither did the youthful Eastern Lions outfit, which came within 90 minutes of claiming the CBZ Cup title, but fell to Caps United at Rufaro Stadium in Harare in 2008, nor Highway FC, won a top-flight league competition.
But it was Chidzambwa who was at the helm of the technical department of the trailblazing Mutare side whose exploits charmed the province and the nation at large.
Tanganda was not just a football club for the people of Mutare in particular, but Manicaland Province in general as well as being a symbol of pride as the country embraced the arrival of the domestic Premiership.
On December 12, 1993, a 10-man Tanganda, rank underdogs in their Castle Cup final replay showdown against Caps United at the National Sports Stadium before 15 000 fans, made a mockery of that status as they went toe-to-toe with the Green Machine in two hours of explosive knock-out football which, at times, dripped with purity.
Up to this day, former Tanganda goalkeeper, Emmanuel Maluwa, vividly recalls the joy and jubilation that gripped their camp which he attributes to Chidzambwa's coaching prowess as well as the talent laden squad.
"We will always miss that man (Chidzambwa). He was cool-headed and was good at motivating players before every encounter. I still have fresh memories of that Castle Cup triumph and it was a result of his coaching prowess as well as the talented players that made up the Tanganda squad," said Maluwa.
While the Chidzambwa-led Tanganda FC remains the only Mutare club to lift a top-flight league premier domestic knock-out competition, the 2021 season could have provided more chances for the city to rekindle fading memories of 1993, given the presence of two teams in the Premiership for the first time since independence.
In Manica Diamonds and Tenax, Mutare has two resident Premiership clubs.
Regrettably, their performance in the first three matches of the ongoing Chibuku Super Cup has not given neutrals a reason to believe in the possibility of any of the two emulating Tanganda FC.
Indeed, emulating the determination of a club in a see-saw match, which had ended 2-2 after extra-time, fittingly decided by a nerve-wrecking penalty shoot-out drama in which Tanganda triumphed 7-6 to bring the Castle Cup to Mutare, is no mean feat.
Tanganda had to fight long and hard, especially after the 107th minute when substitute, Godfrey Madziwa was sent off for a second bookable offence by Bulawayo referee, Thomas Khumalo which saw CAPS United throw everything at them as the Green Machine took advantage of their numerical advantage.
The Mutare side, however, held on to force the match into a penalty shoot-out which didn't appear to start well for them when left-back Kudzanayi Kadzirange's effort, their first from the spot, was saved by veteran CAPS United goalkeeper, Brenna Msiska.
But assistant referee, Brighton Mudzamiri adjudged that Msiska had moved before the kick was taken and Kadzirange didn't make a mess of his second chance, drilling the ball home from the spot.
And, from there, it was all a roller-coaster of emotions, including some missed penalties, until Tanganda sealed their victory.
Lloyd Mutasa's goal, five minutes from time, had forced the game into extra-time after Chapoterera had scored in the 62nd minute before goals by Joe 'Kode' Mugabe and Tonderai 'TK' Mutambikwa appeared to have given CAPS victory.
It remains the finest moment for a football club from Manicaland and, Chidzambwa was part of the heroes of that Tanganda side that won the Castle Cup in the first year of the domestic top-fight league in its current format.
For now, we can only say rest in eternal peace our revered football cadre!