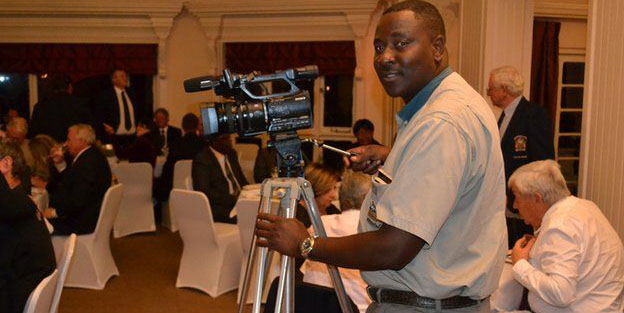 The ManicaPost
Ray Bande
Senior Reporter
I WOULD not know exactly what took him away.
I was not there.
I only heard.
For that reason only, I will not be judgmental.
But, what I know for a fact is that the late photojournalist, Innocent Chiwanza's last WhatsApp profile image was that of his children, beaming smiles of true replicas of our departed colleague.
His undivided affection for his own offspring was beyond reproach and where words fell short, Chiwanza would make use of the lenses.
We all saw how he worked long and hard, just to meet the needs of the people on his last WhatsApp profile picture.
Put simply, Chiwanza was a family man.
As I knew him, pictures were his life.
He knew exactly how to tell a thousand words in just a click of the button.
One thing I will always cherish about his character was his humility.
I will never forget, as a greenhorn in this profession of journalism, how he used to ask me, little as I was back then, which pictures I wanted from any event we covered together.
At Sakubva Stadium when covering mainly Premiership football matches, for example, Chiwanza would usually pop in just before kick-off and run around looking for me.
In his trademark soft voice, he would ask: "Ray, which specific players or pictures do you want?"
Not so many photographers have the humility to ask the writer, let alone a far too junior writer, which pictures they want from a function being covered.
They mistakenly assume it is a sign of submission to the writer.
What a weakness!
Chiwanza did not have that weakness.
What mattered to him was the product to be produced and how it should match.
We have truly lost an asset in the industry.
No wonder fellow comrades in the industry have affectionate memories of the years they worked with Chiwanza.
The Manica Post News Editor, Cletus Mushanawani said: "It is still difficult to comprehend Chiwanza's sudden departure. We spent more than 10 minutes chatting the day before he died. He was at his usual jovial best. It came as a shocker to receive the news of Chiwanza's death.
"We worked so well with Chiwanza from my formative years in journalism until his last days on earth. He was one person who would go an extra mile to get the best shots.
"I remember one incident when he pursued a motorist who was involved in a hit and run accident near Sakubva Swimming Pool, capturing every moment. He even blocked him when he tried to flee from the accident scene until he owned up for the crime. Chiwanza later rushed the accident victim to Victoria Chitepo Provincial Hospital.
"He was not shy to ask for help in his ChiManyika dialect ' . . .Wasu ndimi makaenda kuskuru, ndinyorerewo caption inobhuya' (You are well trained in writing, may you assist me with a captivating caption)."
Journalist-cum-musician Clayton Masekesa said: "Chiwanza was a man who was dedicated to his work. He was a passionate photographer and videographer who was open-minded. We could share his works, ideas and content.
"I worked with Chiwanza for a very long time. He would come up with amazing photos and videos that added value to journalism.
"I remember him vividly, travelling with him to all corners and coming up with photos and videos of high profile people from politicians, business executives, businesspeople, entertainment and sports people, among others.
"His super works changed the dimension of journalism and I am sure the consumers of his works can testify to his attributes. It is sad that the journalism fraternity has lost a brilliant photojournalist but he has left a legacy."
Veteran freelance journalist, Sydney Saize said: "I knew Innocent Chiwanza as an outgoing fellow in the fraternity. He was jovial, always available to assist with pictures and videos. A great loss to the media industry. He will be missed by many who had time to socialise with him."
Fellow scribe, Sharon Chigeza said: "I was beginning to know him at a personal level and for the time we spent together, I got to learn what a kind and jovial person he was.
"He was one who would easily break the ice wherever he went and tried to unify people. The greatest gift he had in Manicaland was how he managed to bridge the gap between journalists and photographers and bring them together as one in the media fraternity.
"We learnt of the passing of our colleague with shock and great sorrow. The untimely death of Innocent has left a void in the media fraternity that will be difficult to fill.
"He will, however, be remembered by many in the fraternity for nurturing young talent and always offering a helping hand without expecting much in return."
Chiwanza grew up in Honde Valley, attended his primary school at Katiyo Primary before advancing to Muterere High School for his secondary school.
Later on he worked at ZUPCO as a bus conductor, driver and was eventually promoted to be an inspector.
While at ZUPCO, he bought a camera because he had a passion in photography.
He decided to resign at ZUPCO and started a filming and photography company in 2000.
He ran this company up to the time of his untimely demise.
He employed different people at his company and media students on attachment.
Family spokesperson, Michael Machinda summed up Chiwanza's persona by saying: "He was a teacher, counsellor as well as a good father. Because of his generosity and jokes, he was liked by almost everyone who knew him in the City of Mutare."