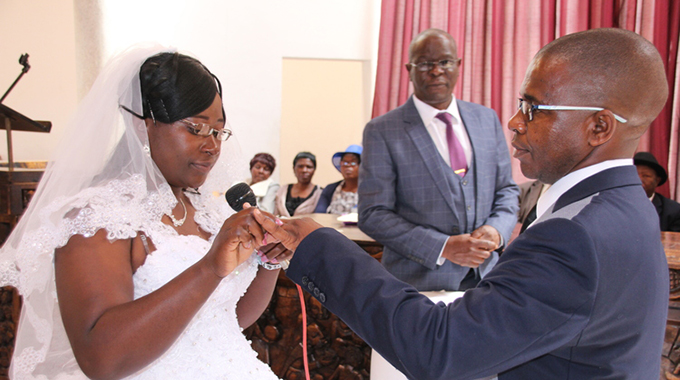 The ManicaPost
Hello everyone,
We are finally in the second half of 2018 and it's go, go, go for some of us. So you know I am always happy when someone writes back to me about something I have written. I am expressly excited when someone wants to contribute to help bring further education to our readers.
So when I received and email from Lawrence in reference to one of my articles, I just had to post it. Bride and Grooms you would do well to read this article, and you would do even better to give it to someone you know who is getting married. Lawrence much appreciated my Sir. We soldier on in our quest to perfect our trade as wedding industry service provider professionals.
Folks, this is what Lawrence had to say…..
Hi Ann, it's a pleasure to be responding to your article in Manica Post of 27 July to 02 August 2018 entitled  "YOUR WEDDING PHOTOS ARE FOREVER".
It is with great concern that we share the same observations regarding to photographers at wedding events. However I would like to also share the some of the reasons why some photographers and other service providers don't produce the much needed quality by their clients.
I have been a cinematographer since 2004 and a photographer since 2007. It is during this period that I have been covering events such as weddings and other social events. I covered events planned from a low budget to high budgets. I discovered that the same mistakes are repeated over and over again by planners (owners of the event) and service providers.
Here are some of the reasons from a photographer point of view:
I discovered that the value of a wedding is upheld by the groom and the bride themselves. If they take their wedding seriously nobody will. Many at times when I charge or quote them specifying the reasons for the amount I charge they begin to cry for a lower charge. They opt for a lower price causing the stripping of some of the services being provided such as lighting gear, two or more cameras and transport for the photographers. Negotiating for a lower price has a huge effect on the production of wedding photos.
Most weddings are poorly organised especially at time keeping. They delay to start, take their time at the ceremony but when we go to the photos there is a sudden hast in the procedures of events. At the garden suddenly the manager says "I'm giving you 20 minutes" which is barely enough to produce your artistic nature as a photographer. This is also the same reason why photographers tend to use a single a background in the garden. If you have noticed at weddings, everyone take their time doing their things. The bride and groom take their time to dress, Vana tete take their time to arrive and there is a common unnecessary delay. It will be like everyone has been hit by a wave of confusion. After all this the photographer is the one who takes the blame by being given little to do their art. Memories are very important and therefore let photographers have much ample time to do their work.
Where do directors of photography suddenly appear from? Have you ever noticed especially at gardens that there is someone who appears from nowhere directing the photographer telling or rather commanding him what and who not to shoot? This distracts him and sometimes it may turn into a fist fight. Please let us do our work.
There is a trend these days since the invention and common accessibility of phones with cameras that everyone is now a cameraman especially at social events. Most of which they delete the footage soon after the wedding. We call them "phoneraman".
These people have got a tendency of disturbing the movement and blocking the view of the photographer. Planners should state at invitation mediums that there is a designated photographer therefore no one is allowed to take photos.
I agree with you that photography is an art but not everyone who holds a pencil or paintbrush is an artist. Not every photographer has an art of wedding photos. Most of them just acquire a camera and automatically they can take wedding photos.
Now finally, this the most disturbing issue in the world of photography in Mutare if not the whole of Zimbabwe. Most of my colleagues in the photography base their professionalism on their experience and not academic qualification, the number of events they have covered, where they have travelled with photography and who they have photographed.
So most of us do not have academic qualification which may affect the quality of photos.
However since the easy access of the internet there is an improvement of photography. Tutorials on the internet do help a lot. Every form of art needs to be enhanced by researching on new developments and trends.
Yours
Sir Lawrence
Well that's it from Lawrence folks, I pray those who have ears (including Phoneramen), will listen! As for me, I will speak to you all next week.  God bless.
Ann can be found at Utate Garden, 28 Chimoio Ave Mutare.  0772933845.