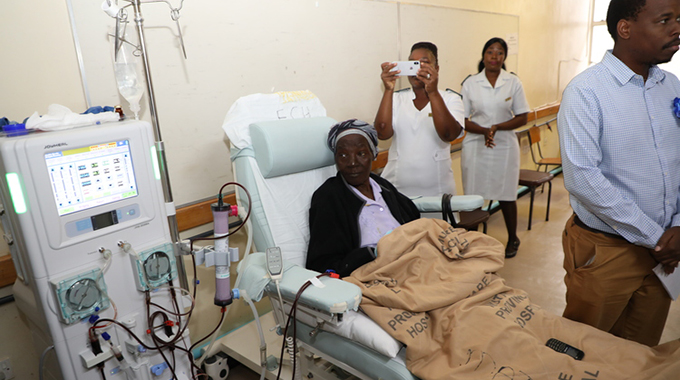 The ManicaPost
Liberty Dube Post Correspondent
GOVERNMENT has scaled up the fight against kidney failure through the establishment of free dialysis services at Mutare Provincial Hospital, in a positive move set to improve the outcomes of renal patients.
This has brought relief to thousands of kidney patients in the province who in the past could not afford the life-saving intervention due to the exorbitant costs involved.
Considering that a renal patient needs about three-four hour sessions a week to properly manage the condition, many renal patients experienced heal on earth as dialysis fee was pegged beyond their reach.
The cheapest was $80, meaning one would need at least $960 per month, and renal patients in Manicaland can now access the services for free locally and cut on travelling expenses.
Mutare Provincial Hospital yesterday hosted the World Kidney Day commemorations where the Minister of Health and Child Care, Dr Obadiah Moyo's speech was delivered by Manicaland provincial medical director Dr Patron Mafaune.
Dr Moyo said the ministry, through the Health Levy Fund, was providing subsidies for dialysis to be offered for free.
The commemorations were held under the theme: "Kidney health for everyone, everywhere".
"Transplantation is considered the most cost-effective treatment of chronic kidney day. However, it has set up costs with regards to infrastructure and requires highly-specialised teams, availability of organ donors and cannot be done without dialysis backup. Physical and legal infrastructure requirements and cultural bias against organ donation often present barriers in many countries, making dialysis the default option. The ministry has plans to scale up dialysis machines in Zimbabwe and thereby improve the outcomes of patients with kidney diseases," he said.
"The World Kidney Day calls on everyone to advocate for concrete measures in our country to improve kidney care, such as make screening for kidney diseases a primary healthcare intervention including access to identification tools as well as to ensure kidney patients receive basic health services they need to delay disease progression without suffering financial hardship. Chronic kidney diseases and acute kidney injury are important contributors to increased morbidity and mortality from other diseases and risk factors including cardiovascular disease, diabetes, hypertension, obesity as well as infections such as HIV, malaria and Tuberculosis".
The kidney day is commemorated on March 2, was initiated by the joint committee of International Society of Nephrology and International Federation of kidney Foundations.
Among other objectives, the event is celebrated to highlight the kidney problems related to the common health disorders like diabetes, high blood pressure which may lead to the chronic kidney diseases. Zimbabwe has more than 2 000 patients with chronic diseases.
World Health Organisation (WHO) country representative Dr Alex Gasasira said: "We appreciate all those who worked so hard to put this together. It is fitting to us to reflect on kidney. We reflect on the burden of kidney problems and what we all are doing to maintain good health for everyone, everywhere. The ministry, health workers and others are doing a commendable job to deliver good quality medical service to our patients with kidney disease. We can do more and we should do more to prevent people. Our wish is have some machines everywhere. We are grateful to the ministry of health which is in the process of articulating a comprehensive policy for non-communicable diseases and we are looking forward to kidney disease being a prominent part of this policy".