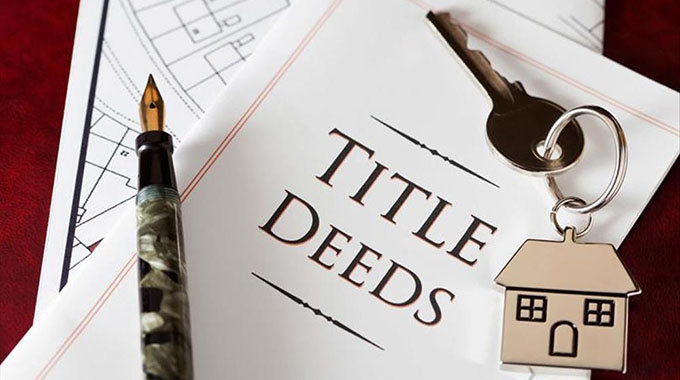 The ManicaPost
Alfred Maenzanise Post Correspondent
Many people would wonder why they should get their land property registered with the Deeds Registry. They believe that the fact that relevant local authority offices have up to date records showing that they are bona fide owners of the property is sufficient. They would wonder why the land parcels have to be surveyed when they already have houses built on them.
Moreover, the survey cost becomes a burden that they have to foot! Land owners, especially in old townships in urban centres, need some education to assist them appreciate what registration entails.
Ownership of land property is achieved only upon registration of such land in the Deeds registry. The fact that one has offer letters or agreements of sale from seller does not mean that one is now the owner of the land. Change of ownership is completed only when one has acquired registration papers from the Registrar of Deeds.
This office falls under the Ministry of Justice, Legal and Parliamentary Affairs. It has the sole mandate to register ownership of land property and issue deeds of registration as confirmation of registration.
A Deed of Transfer (DoT) is a document issued by the Registrar of Deeds to confirm that a land parcel has changed hands, that is, it has been transferred from one person to another.
The power to transfer land property is given to an attorney by the land owner.
Land that is acquired from private individuals or municipalities is passed through deeds of transfer.
The deed has the full legal description of the land and its size. It also makes reference to a land surveyor's diagram or general plan which depicts diagrammatically the extent of the land parcel.
All land surveyor diagrams and general plans are allocated unique numbers by the Surveyor-General for ease of reference.
Property can be registered through Certificate of Registered Title (CRT). This is when the owner of subdivisions of a property decides, for one reason or another, to register such subdivisions in his name. There is no change of hands, in this case.
A municipality may, after subdividing its land, want to register all properties that are to remain with it; the certificates of registered title become handy, while the rest can be transferred. It is prudent to always ensure that the land property is registered even when there are no immediate plans to develop it.
It can happen that one acquires properties that are adjacent and wants to develop the properties as one big scheme. It becomes a requirement that the discrete units must be consolidated to become one big property. An application is made to the local planning authority seeking permission to consolidate the units to create one unit. Such application is accompanied by a proposal plan showing the resultant unit and the hitherto discrete units.
When the application is granted, a land consolidation permit is issued by which a land surveyor creates a consolidation diagram for approval by the Surveyor-General. Such diagram is used as the basis for Certificate of Consolidated Title which is registered at the deeds registry.
A deed of grant is a document that confirms transfer of land from the state to a private individual. Land is acquired from un-alienated state land by way of deed of grant.
It is quite possible that the state can pass ownership by deed of transfer where the land in question is a subdivision of land owned by the state but was acquired from private individuals.
Land may be acquired through share transfer.
In this case interest in the land is represented through shareholdings in a company.
A portion of land will be a certain percentage of the total that the company owns.
A share owner can sell his share to a buyer in which case the buyer then acquires the share; and automatically becomes a shareholder of the company. The company usually gives conditions that must be fulfilled for one to sell or to acquire shares in the company.
Interest in land can be registered by way of undivided shares. This works particularly in high-rise flat developments. The floor space occupied is used to arrive at shares that must add up to 100 percent. Space that is common and is therefore accessible to all is not considered in arriving at the share values. It is referred as common property.
The parking space may be considered as common or can be partitioned so that portions exclusively owned by members. Undivided shares are created and registered by a notarial deed. The notarial deed creates an association of owners and a committee which runs the affairs of the association. Usually the association holds annual general meetings where a new committee is elected into office.
A deed of partition transfer is executed when joint property owners desire separate ownership in accordance with their shares. If jointly owned real estate is subdivided, a partition converts the new property titles from joint ownership into separate ownership.
The subdivision could be a land subdivision or a strata subdivision. Usually, the subdivision takes place when a property development is completed. For example, two investors buy land in joint names, obtain approval and build a duplex. After subdivision, each dwelling is on a separate title, but the land remains jointly owned. Instead of selling, they decide to live in or rent the dwellings. They use a Deed of Partition and Transfers to dissolve the joint ownership, so that each becomes the sole owner of one dwelling.
The writer Alfred Maenzanise is a land surveying consultant at A J Maenzanise Land Surveyors. He wrote this article in his private capacity. He can be contacted on the following numbers: +263775872540 or 263202061586.or [email protected]