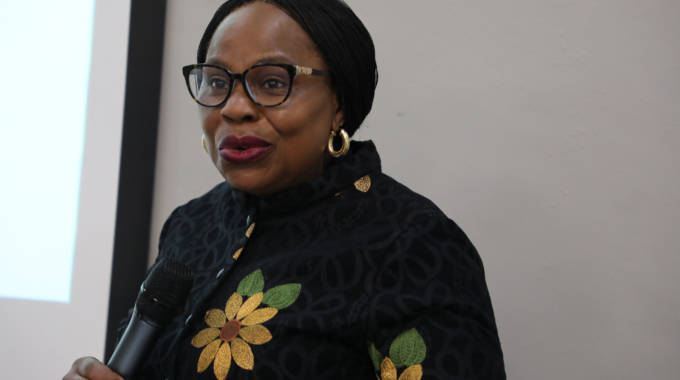 The ManicaPost
Ray Bande
Senior Reporter
GOVERNMENT'S engagement and re-engagement efforts are bearing fruit as the country's erstwhile adversaries are gradually turning into friends; Information, Publicity and Broadcasting Services Minister, Senator Monica Mutsangwa has said.
In her keynote address during the proposed Media Practitioners' Bill workshop in Mutare yesterday (Thursday), Sen Mutsvangwa said the diplomacy of engagement and re-engagement was taking root.
"Old friends are all reassured. By the same token, President Mnangagwa is receiving positive overtures from erstwhile adversaries and detractors. We are becoming a friend to all and an enemy to none.
"The Ministry of Information, Publicity and Broadcasting Services is duly taking direction from President Mnangagwa. We are loudly and proudly conveying his pro-business ethos to the national public and beyond.
"We are equally playing our part in opening up the entrepreneurial space in the information and media sub-sector," said Minister Mutsvangwa.
She said the Government was working towards ensuring pluralism and diversity in the media sector to create an enabling environment for media to thrive.
"We are improving upon the regulatory framework. We are keen for it to meet the digitalisation demands that are the hallmark of the Fourth Industrial Revolution.
"It is against this backdrop that we are working tirelessly to ensure pluralism and diversity in the media sector, create an enabling national environment for the media to thrive in an ever changing world, reform media laws to conform with the constitution, and doing away with the garbage of yesteryear's them-versus-us notions of media business conduct," she said.
Minister Mutsvangwa spoke of the importance of an independent and professional media practice for development.
"The backbone of any democracy is an independent, professional and responsible media. The media plays a vital role in democratic societies, enabling the open exchange of information and opinions among ordinary citizens, businesses, citizen associations, political parties, and governments.
"Free and open media systems give voice to citizens, truth test candidates and political parties during elections and informs policy debates in legislatures.
"They enable the investigation of corruption, hold public officials accountable, enable democratic governance and facilitate more effective national development policies and programmes," she said.
Minister Mutsvangwa lauded Government's efforts in stabilising the local currency.
"Specifically, the June 2020 Statutory Instruments were a game changer. Ever since, the national currency has been de-colonised and fully domesticated. It has ushered in Zim-dollar stability.
"This in turn has unleashed juices of business creativity. Global class investors are being enticed to pour serious money as they open up our mineral resource sector. The national rail and road logistics network is on an exciting recovery path," she said.
Speaking during the same event, Permanent Secretary in the Ministrt of Information, Publicity and Broadcasting Services, Mr Nick Mangwana urged stakeholders to prioritise the processing of the Broadcasting Services Amendment Bill.
"I feel that the Broadcasting Services Amendment Bill should also be prioritised. It is a bill that speaks to business and if we are saying Zimbabwe is open for business, then these are the issues that deserve our attention.
"Among some of the things that we note in the Broadcasting Services Amendment Bill is that the industry is capital intensive therefore the issue of foreign shareholding is of concern. It should be increased to about 40 percent from 20 percent. Locals can hardly afford the costs involved," he said.
Among other functions, the Media Practitioners' Bill seeks to encourage the formulation of codes of practice to regulate the conduct of media practitioners and ensure the maintenance of media practitioners' high standards of professional and ethical behaviour.
It also seeks to provide for the investigation and determination of complaints about the media.