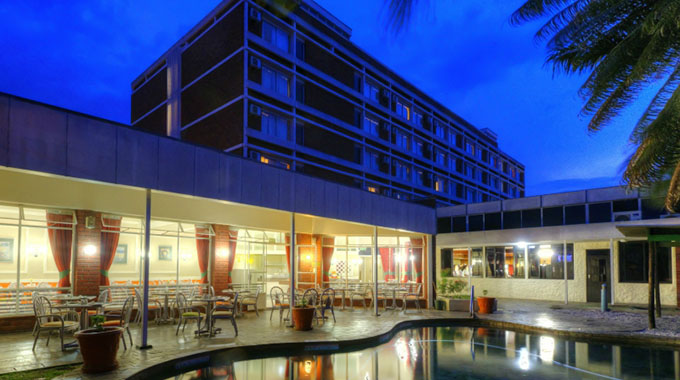 The ManicaPost
Liberty Dube
Post Correspondent
Just like other tourism destinations globally, the Eastern Highlands have been hard hit by the travel restrictions that are in place to stop the spread of Covid-19.
The sudden and unexpected drop in tourist arrivals has placed hundreds of jobs at risk.
The sad development is also threatening to roll back the progress made in sustainable development.
Therefore it is comforting to note that after a three-month hiatus, Eastern Highlands' players in the tourism and hospitality industry are now re-opening their doors to clients.
Hotels like Golden Peacock Villa, Skyview, Wise Owl, Pamusangano Lodge, Holiday Inn in Mutare, White Horse Inn in Vumba, Montclair Hotel and Casino in Juliasdale and Troutberk Inn Hotel in Nyanga are now operational while adhering to Covid-19 safety measures and guidelines.  Hoteliers are striving to resuscitate profitability while adjusting to the new ways of doing businesses.
Holiday Inn Mutare and Troutberk Resort were on Wednesday expected to resume operations.
"The health and safety of our guests, employees, their families and the nation at large is our priority and we have incorporated measures guided by the World Health Organisation to safeguard it. We will be opening our doors from the 1st of July," said African Sun Limited in a statement.
Safety measures include physical distancing up to two metres, contactless check-in and check-out protocols, regular sanitization of Point of Sale machines and other high touch areas. Gyms and swimming pools at the hotels, however, remain closed.
Buffet and la-carte meals are being served in restaurants while takeaways can be arranged.
White Horse Inn recently underwent massive renovations and has also re-opened.
At Montclair Hotel and Casino, all staff on duty underwent rapid diagnostic testing. This is being reinforced by strict monitoring of the Covid-19 symptoms and daily temperature checks as they report for duty and when leaving.
The hotel has an active Covid-19 enforcement taskforce headed by the general manager, Mr Brian Nyakutombwa, for the enforcement of the pandemic's health and safety protocols.
Said Montclair Hotel and Casino management in a statement: "After booking has been confirmed and paid for before arrival, the hotel shall e-mail the check-in registration sheet to the guest for them to complete requisite details, sign, scan and e-mail back to the hotel prior to arrival.
"This is meant to reduce contact frequency and touch points. When guests prefer to eat from the dining room, strict physical distancing shall be enforced. Hotel non-residents shall be served only take away, with the dining room reserved for those staying in the hotel."
While a ray of hope is filtering for the local hospitality industry, the United Nations World Tourism Organisation estimates that in 2020, global international tourist arrivals could decline by between 20 and 30 percent, with Zimbabwe's international tourist arrivals declining by between 30 and 80 percent.
The decline is estimated to lead to losses of between US$30 and $50 billion in international tourism receipts globally.
Zimbabwe forecasts a decline that will lead to a loss of between US$0,5 and $1,1 billion in tourism receipts.
Tourism and Hospitality analyst, Mr Lloyd Makonya said, "Hotel accommodation is a perishable product. Time lost won't be redeemed and it won't be recouped. This is happening at a time when there are fixed costs to be met.
"Players in the industry need to be innovative and come up with packages to complement Government's efforts in trying to incentivise domestic travel.
"A synergetic approach may be necessary in order to come up with packages linking up several service providers at affordable costs to the travellers, packages that are also profitable to the service providers.
"The greatest challenge is the level of cooperation among tourism players. We need to start deliberating on how best we can work together for the benefit of each other. This may mean an evaluation of our cost structure models along the supply chain, from transportation up to the end of the chain," he said.
Government has pledged to provide a bank guarantee facility worth $500 million to assist the tourism sector to access working capital loans from banks.
Unveiling a stimulus package to boost the tourism sector, Environment, Climate, Tourism and Hospitality Industry Minister  Nqobizitha Mangaliso Ndlovu said: "In coming up with this decision Government is cognisant of the fact that the tourism sector has lost substantial business through cancellations and postponement of travel since January 2020 to date.
"We are also aware that access to lines of credit is often hampered by lack of collateral or often stringent lending conditions by the financial institutions."