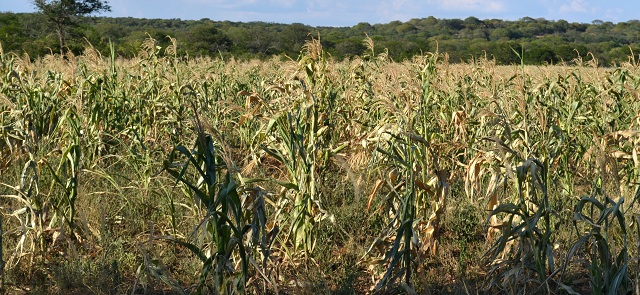 The ManicaPost
Samuel Kadungure Senior Reporter
A SENIOR agronomist in Manicaland has expressed pessimism that the rains received starting on Wednesday will do much to rejuvenate crops and improve yields.
Provincial agriculture extension officer (Manicaland) Mrs Phillipa Rwambiwa said the damage has already been done and farmers without irrigation and in the rain shadow of regions three, four and five can hardly salvage anything from their field though the rains are welcome. Mrs Rwambiwa said chances of increased rainfall in the province will be a welcome development, particularly in the southern parts where low rainfall resulted in delays in planting and crop moisture stress.
In areas such as Makoni South, Marange, Nyanga South and North, Birchenough, Lowveld, Buhera, Chimanimani and Makoni North crops had already wilted due to the prevailing dry spell. Reports indicate that low rainfall has resulted in deterioration of grazing pasture for livestock in several areas across the province. Mrs Rwambiwa said even the small grains which are usually revered for their resistance, died in the scotching heat.
The province last received rains late December 2017, and what followed was an arid spell which burnt the early planted crops. She expressed fears that the rains have come a little bit late as the mid-season drought had already caused cereal crops succumb to harsh arid conditions before reaching maturity.
"In natural regions three, four and five the crop is bad and struggling after very little or no rain was received. The areas covering larger parts of Mutare, Buhera, Chinaminani, Makoni South and North, and the Lowveld received erratic rains and the crop, including the small grains, cannot be salvaged.
"With the coming of the rains, the crop leaves may look green, but in terms of productivity there will be nothing to talk of. The other thing is lack of uniformity in rainfall patterns. The showers are not evenly distributed, and the situation in Mutare might not be replicated in Chipinge or Buhera districts," said Mrs Rwambiwa, adding that the situation was dire in all communal areas across the province.
She said rains in these areas can only help to improve grazing pastures and water bodies for gardening and domestic purposes. Mrs Rwambiwa said the rains might still be beneficial in ecological region one and two and improve grazing pastures, water levels in reservoirs and land preparation for the winter crop.
Regions one and two cover some belts in Headlands, Odzi, Vumba, Nyazura, parts of Nyanga, Mutasa and Mutare (a smaller part) and can still salvage a reasonable harvest if it rains now. These regions have received normal better rains and the crop and livestock were still in fair state.