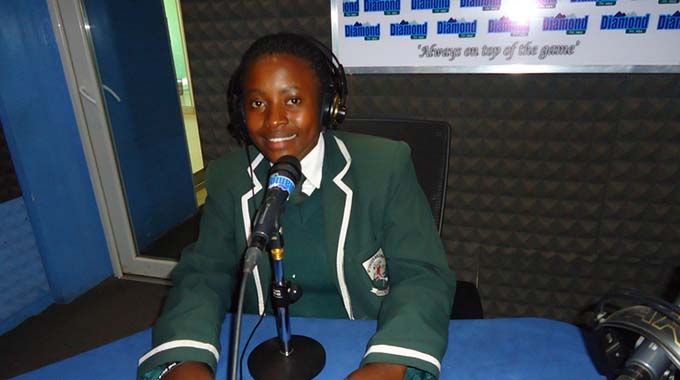 The ManicaPost
Morris Mtisi Education  Correspondent
TINOTENDA Shalom Madziyire is a quiz whizz-kid in a class of her own. She oozes all-round knowledge, confidence and above all good character. What started as a lukewarm-sort of join-the-crowd pastime has developed into full-blown talent or gift.
Tino has been to South Africa twice on the Book of Africa Records and National Schools Quiz Competitions. Speaking to the Radio Teacher and education programme Head-To-Head presenter, MM on Diamond FM yesterday night, Tino chronicled her journey to quiz stardom:
"It all started at Chancellor Primary School when Mr Nyambo discovered my talent and persuaded me to join the Quiz club. He set the General Paper and always vowed no one would ''totalise'' his paper (get all answers correct). I broke the jinx and surprised him. He came to my class . . . wanted to see the mad girl and that is how it started," said the quiz maestro.
"I did not want to. I hated remaining behind after lessons doing quiz sessions. A cousin of mine, another Tino, studying at Marist Brothers also thought I did not know what I was missing. That is what broke the camel's back. He inspired me. When I look back I thank both Mr Nyambo and my namesake-cousin for helping me to discover my gift."
Tinotenda said she developed a serious and genuine interest in Quiz in Form 1 and 2 at St David's-Bonda.
"A quiz club matron, Ms Dhliwayo, Mr Nyambo-style, persuaded me to join the St David's-Bonda quiz club. As I have said, I have been on a plane to South Africa twice, our school in 2016 coming out number 8 out of 23 Sadc region schools. We were the only girls' school that made it to the top 8 schools."
In the middle of all this excitement and series of historic achievements, Tino revealed a terrible setback currently threatening her God-given talent.
"Our school is going into the world series quiz competitions in South Africa in December. The school cannot afford to sponsor our group to participate. We appreciate the economic challenges in the country, and our school is not spared. But it is painful. I am so passionate about quiz that I cannot stand missing out the World Series. All I need is 400 US dollars and my mother is doing everything she can to raise that amount which is all that remains. She is doing all she can to pay my fees and keep me in school. I am thankful. This extra responsibility I know is overstretching her."
Tino appealed for well-wishers to help raise the 400 dollars she needs. This reporter promised on radio to ''beg, steal or borrow'' what he can through the Head-To-Head with MM programme. Keep tuned in every Thursday night between 8 and 10 pm.
And here is what we will do to help the brilliant Tino: Ecocash a minimum of one dollar into this registered ecocash account number: 0773 883 293. More than one dollar, if you feel pushed further, will not be a crime, please note. Every Thursday night during my Head-To-Head with MM programme (8 to 9 pm) or Radio Teacher (9:30-10pm) I will announce the names of every ''donor'' and kind donation towards Tino's trip to SA in December.
Only one dollar is enough per person. MM has started the ball rolling by donating $10 towards this cause. How does it feel to know you have put a small rainbow at the end of someone's cloud . . . and a little smile on someone's face? Some students need more than just our words.
You can also use Tino's mother's ecocach account number> Mrs E M Madziyire 0772 889 633 or the following bank accounts:  Banc ABC Mutare Branch-14154445402017, ZB Nyanga Branch> 4544-284422-200, CABS Mutare Branch> 1003267068 for any kind donations.
We will do this for more students climbing a steep hill towards their goal and destination. Tino has been the first. I know many more will follow. Zimbabweans have no money, including this reporter. But we have big hearts! This programme will from now on cease to be a sheer Talk-Show around education.
It is transforming into an educational-Do-Show. That will be the fulcrum of the programmes . . . the pith of my effort on the show. Teaching, Encouraging, Motivating, Guiding, Counselling; but above all removing obstacles! ( . . . the fulcrum and pith of the matter…Stop grinning!) On a serious note, students have various needs. Let us help each other to make our radio talk-shows make more sense by ensuring we go beyond just talking. I will be the first to walk that talk . . . God help me!
Go Tino, goo girl! Count that you are already there in SA in December! Together we will do our Best: God will do the Rest.