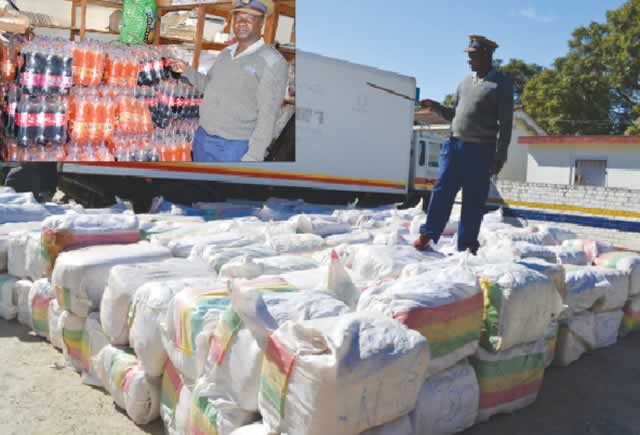 The ManicaPost
Liberty Dube Post Correspondent
POLICE in Mutare have arrested four people in connection with the smuggling of 28 bales of secondhand clothes as well as soft drinks from Mozambique as they intensify their border patrols.
Innocent Paubare (41) and Artwell Chitandawafa (35) allegedly used an illegal crossing point to gain entry into Mutare and smuggled 161 cases of soft drinks on Monday, while Louis Madzana (34) of House Number 9560, Dreamhouse in Chikanga was on Wednesday nabbed with 20 bales of secondhand clothes.
Kenneth Fungurayi (23) of House Number 228, Southlea Park, Omar Farm in Harare was on Wednesday also arrested with eight bags of secondhand clothes.
Paubare and Chitandawafa were expected to appear in court by today (Friday).
Deputy Manicaland provincial police spokesperson, Assistant Inspector Luxson Chananda, said: "Detectives who were patrolling along Mutare-Burma Valley on Monday around 5pm met the two who were driving in a Mitsubishi car near Brown Hill. Upon being asked where they were coming from, they could not give a satisfactory answer. The detectives conducted a search and recovered 161 cases of soft drinks. They were arrested. The goods were taken to Mutare Rural Camp," he said.
On Wednesday, detectives who were on traffic enforcement duties at 132km peg along Harare-Mutare Highway stopped a white Toyota Regius, Registration Number ADF2537 which was travelling from Mutare towards Harare.
"They discovered 20 bales of secondhand clothes and subsequently arrested him. His vehicle was impounded. On the same day, five detectives who were manning a roadblock at the 192km peg along Harare-Mutare Highway in Nyazura when they received information that a Beta Bus, Registration Number ACZ 4584 was carrying bags of secondhand goods that had been smuggled from Mozambique.
"When the bus approached the roadblock it was stopped. A search was conducted resulting in the recovery of eight bales of secondhand clothes," said Asst Insp Chananda.