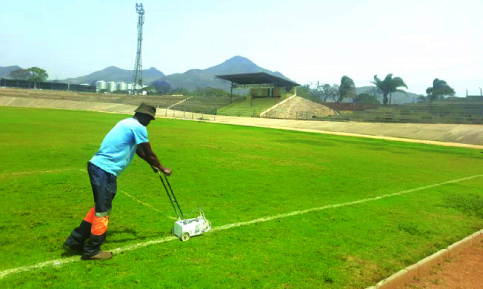 The ManicaPost
Ray Bande
Senior Reporter
MANICALAND'S ceremonial home of football – Sakubva Stadium – stands at the mercy of its custodians – Mutare City Council – as the sports facility awaits final inspection which can only happen after the local authority invites ZIFA.
The nation is warming up to the 2023 Castle Lager Premiership season that rolls into life across the country this weekend, with Manica Diamonds – the club that uses Sakubva Stadium as its home ground – away to CAPS United in Harare on Sunday.
Sakubva Stadium was condemned by the ZIFA Grounds Inspection Committee which recommended a number of areas that need attention before the venue can be deemed fit to host top-flight league football matches.
The Grounds Inspection Committee highlighted that the local authority must inform ZIFA when they are satisfied with the renovations that the football governing body requested for to pave way for a final inspection.
However, Mutare City Council spokesperson, Spren Mutiwi told Post Sport this week that they are continuing with the usual general renovations that include lawn mowing.
Mutiwi said, given the timeframe, there is no way they can finish all the required renovation works before the onset of the PSL season.
"Council is interested and committed in upgrading the stadium as demonstrated by a number of works that have been done since 2019. The key outstanding issue for major works remains the turf rehabilitation including the drainage system.
"The works require contracting out via the tender process in fulfilment of PRAZ (Procurement Regulatory Authority of Zimbabwe) regulations. Tenders for the works have failed on several occasions since 2021 for one reason or another.
"For example, Tender SBD03/2022 was advertised in January 2022 and the recommended bidder failed on due diligence. The same tender was re-advertised in August 2022 and failed after getting no responsive bids.
"Tender COM/SBD 57/2022 was flighted in December 2022 and the tender was cancel due to exorbitant or prohibitive costs. So council is now working on other methods of procurement as prescribed in the PRAZ regulations.
"Council is cognisant of the importance of sporting facilities. The stadium is currently being used to host a number of school athletics competitions. Council has also been pumping a lot of resources towards the refurbishment of the stadium since 2019 to ensure compliance with CAF/PSL standards.
"The stadium is under the community services section because its service is important for the community and it does not generate much income. In essence, council is funding and pumping a lot of resources to have the stadium running.
"The stadium brings with it aspects such as the local economic development, hence it is importance. The community, business sector, PSL teams that use the stadium should work hand in glove with council to ensure sustainability on the running of the stadium. It is our stadium and we all have a role to play.
"The biggest disappointment is coming from the teams who are the primary beneficiaries. They have become bystanders and have not contributed in anyway despite being the users of the facility. It is high time we call upon the teams to show relevance and be part of the actors in ensuring that we have a facility that meets the required standards.
"We soldiered on our own since 2019, with no contribution from teams up to the present day. Let us work together, the little contributions will help to look after our infrastructure.
"This is not only confined to teams, but to all soccer loving fans and corporates, let us join hands and show unity of purposes, but it should start with the teams themselves.
"The processes that have been identified by the PSL of turf and drainage system cannot be accomplished within a three-week period. It is a capital intensive project which we can complete after securing the relevant service providers. For now, we are back to the drawing board, having all the tender processes failing to yield the desire results.
"The good thing is that we have already initiated the alternative process to secure the service provider to do the works in fulfilment and compliance to the procurement processes," responded Mutiwi to question asked by Post Sport.
Pestered on whether the local authority will, at least, engage ZIFA to come down and re-inspect after the 'usual general renovations' so that Manica Diamonds can host visiting teams starting next weekend, Mutiwi said: "That I cannot answer for now."
After four months of inactivity, the Castle Lager Premier Soccer League action returns, with MatchDay One matches kicking off tomorrow (Saturday).
At least five of the 18 PSL teams will play their home matches at alternative venues after their home grounds were condemned.
Hwange, GreenFuel FC, Sheesham FC, Simba Bhora, and Cranborne Bullets will play their opening games at alternative venues.
GreenFuel FC are now finalising renovations at their Sports Arena Stadium, while Hwange's Colliery Stadium, Sheasham's Ascot Stadium in Gweru, Simba Bhora's Shamva home ground, and Vengere Stadium of Rusape which is home to Cranborne Bullets and Black Rhinos have failed to meet requirements to host top-flight matches.
The other stadium that was condemned is ZPC Kariba's Nyamhunga Stadium.
Sheasham, who are still constructing their Bata Stadium in Gweru also have to play their game against Chicken Inn outside the Midlands capital.
The encounter is likely to be played at Mandava Stadium in Zvishavane.
Defending champions, FC Platinum are likely to kick-off their title defence at the National Sports Stadium against Simba Bhora.
The National Sports Stadium is the only Harare venue cleared for PSL games.
The giant stadium will cater for Harare teams, Dynamos, Caps United, Black Rhinos, Herentals and Yadah, with Cranbourne as well as Simba likely to use it too.
The other option is for some Harare teams to use Ngezi's Baobab Stadium.
Bulawayo which have three teams in the PSL, Highlanders, Chicken Inn and Bulawayo Chiefs have two stadiums, Barbourfields and Luveve.
The other cleared facility is Triangle United's Gibbo.
Castle Lager Premier League MatchDay One fixtures:
Saturday: Simba Bhora v FC Platinum (National Sports Stadium); Sheasham v Chicken Inn (Mandava Stadium); Bulawayo Chiefs v Ngezi Platinum (Luveve Stadium); Hwange v Dynamos (Barbourfields Stadium)
Sunday: CAPS United v Manica Diamonds (National Sports Stadium); Triangle v Herentals(Gibbo Stadium); Highlanders v ZPC Kariba (Barbourfields Stadium)
Monday: Yadah v Green Fuel (National Sports Stadium: 12pm); Cranborne Bullets v Black Rhinos (National Sports Stadium: 3pm).