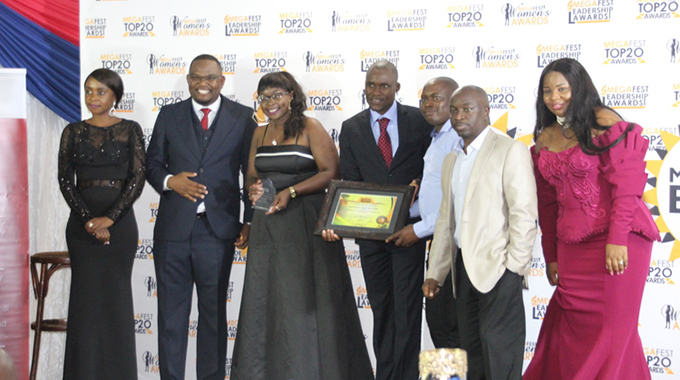 The ManicaPost
Lovemore Kadzura Post Correspondent
BUSINESSPEOPLE have been challenged to be smart and innovative in their operations to remain afloat, relevant and contribute to the country's economic recovery and growth. This was said by the Chipinge Town Council secretary Mrs Susan Malati-Dube, who officiated at the Megafest 2018 Eastern Region Business Awards held last Friday.
A number of business and local authority executives and companies were honoured for their resilience and innovativeness. They walked away with trophies and shields for their efforts.
"Businesspersons must think fast, smart and innovatively even though we are going through a tough patch as a nation. There is no room for sleepers or slumbers at this juncture. It is time for every Zimbabwean to move from their comfort zone and get ready for any unexpected economic undulation. An economic crisis such as this one has a way of turning its victims into business minded-people, ascertaining unforeseen means for survival. For business ideas are like a virus, spreading with speed from their alpha to their omega without hesitation. Business pioneers do not only lay foundation, but build pillars and walls to a new means of survival in any financial wilderness.
"Business pioneers have unique, fervent and priceless thoughts. Problem solving is at the tip of their fingers and they address the root cause of problems to achieve evident breakthroughs. It is time for business ideas that do not shun the crisis, but face it head-on and overcome the bad. It is time for business ideas that are not dormant or safe, but strong enough to cause a volcanic reaction that disrupts the economic crisis.
"Awards alone are not for display, but are a mark that is set as a reminder that once upon a time you did good. An award alone is empty if it is not backed by future achievements. It is time that we as business leaders' start living a legacy because it is what we are doing today that will set a strong precedence," said Mrs Dube.
Rusape education investor Dr Molly Mupfunya, of Milestone Group of Schools, scooped the Businesswoman of the Year Award while Mr Isaah Musabayana of Eat and Lick won the Businessman of the Year Award.
Makoni Rural District Council chief executive officer Dr Edward Pise was crowned the CEO of the Year while Mr George Bandure of Mutasa RDC was the First Runner-Up.
The Manager of the Year Award went to Mr Bernard Makoni, of Border Timbers.
Mutare Polytechnic principal Mrs Poniso Watema won the Female Manager of the Year Award. Mr Kevin Munhenga of Mega Market clinched the Young Manager of the Year Award.
In the Entrepreneur Award Mr Silas Kudya of Top Quality Panel Beaters emerged the winner.
Mr Solomon Gabaza, of Rusape Town Council (RTC) won the Public Sector Leader of the Year Award.
Mr Gabaza's leadership acumen has immensely transformed Rusape into a stable entity that provides quality service delivery to residents and ratepayers since his appointment in August 2017.
Under his astute leadership, Rusape has won three awards — the Best Urban Local Authority (water services), 1st Runner-up Solid Waste Management and Best in Gender Mainstreaming.
Mr Gabaza is credited for turning around the fortunes of RTC which was marred episodes of maladministration and corruption.
Rusape is one of the few local authorities whose financial books are regularly audited by the parent ministry and external auditors and the confidence-building exercise has seen its revenue collection ballooning to 80 percent.
Mega Market Pvt Ltd won the Company of the Year Award while Eat and Lick and Wattle Company were joint winners in the Award of Excellence.
Toyota Mutare won the Customer Focus of the Year Award while Africa University won the Training Institution of the Year Award.
Milestone Group of Schools won the Quality Education Award.
Econet Wireless Zimbabwe was the winner in the Social Investment category.
Steward Bank and Nyaradzo Funeral Assurance were joint winners in the versatile companies of the year.
Steward Bank won again the inancial institution supporting SMES.
ZETDC won the Public Sector of the Year Award.