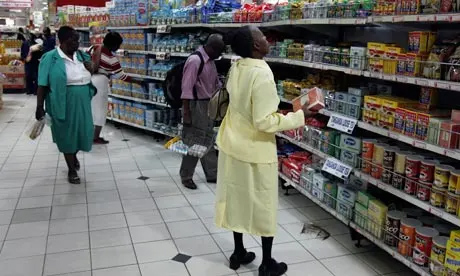 The ManicaPost
Post Reporters
Reserve Bank of Zimbabwe Governor, Dr John Mangudya is confident that Government' new measures will see prices stabilising in the near future.
This comes as prices of basic commodities inexplicably continued soaring this week as errant businesses insisted on either USD transactions or exchange rates that are way about the RBZ official rate.
With the RBZ's official exchange rate currently standing at ZWL1 888 against US$1, major retailer OK Zimbabwe have set their rate at ZWL$2 266; while Pick n Pay's rate currently stands at ZWL$2 076 against the US$1.
Spar Mutare was as of yesterday trading at ZWL2 400 against US$1.
On the other hand, the parallel market rate is hovering between ZWL3 500 and ZWL4 000 against US$1.
This is despite the fact that businesses are only allowed to add 10 percent to the official rate when accepting US dollars for goods priced in Zimbabwean dollars.
The widespread malpractise has left many consumers struggling to put food on the table.
In an interview with The Manica Post on the sidelines of a public lecture at Manicaland State University of Applied Sciences last Friday, Dr Mangudya said it was unfair for retailers to exclusively price their goods in USD or use parallel market rates as this disadvantaged customers who earned the local currency.
He said Government had put in place measures that will see prices stabilising in the near future.
"These measures include Government's introduction of the refinement of the auction system. As from May 15, 2023, the RBZ exempted all proceeds from domestic sales in foreign currency from the 15 percent surrender requirement.
"In order to enhance the supply of basic goods to the public, all basic goods are no longer subjected to import licenses, and will also come into the country free of import duties and taxes.
"Government also effected a duty free import on 14 basic commodities as well as improving the use of the local currency," he said.
Some of the goods that can be imported duty free are flour, margarine, salt, sugar, milk powder, infants' milk formula, tea, petroleum jelly, laundry bar and washing powder.
Dr Mangudya said there was need for Zimbabweans to embrace local currency while reserving foreign currency for imports.
President Mnangagwa recently issued a stern warning to errant businesses.
"We are aware of certain businesses which deliberately disable Point Of Sale (POS) gadgets in order to force the consumer to buy key goods in one currency, contrary to the laws of the land.
"Maybe the time has now come for Government to insist that such businesses who do such tricks should suspend trading until they are able to technically handle transactions in multi-currency, as is bade by our laws."
A survey conducted by The Manica Post across Manicaland revealed that most shops are pegging their prices at parallel market rates, while smaller retailers are pricing their goods strictly in United States dollars.
Those with POS)machines are largely claiming that they are experiencing network challenges, probably as a way of rejecting the local currency.
Several clothing boutiques are exclusively selling in USD as they claim that they don't have POS machines, while motor spares shops are also singing from the hymn book.
Most cellphone shops in Manicaland are also not accepting the local currency, while the few ones who are accepting local currency were using a rate of ZWL3 500 as of yesterday morning (Thursday).
Most hardware shops are also selling most of their products in USD, while the few products being sold in local currency have varying rates ranging from ZWL2 800 to ZWL4 000, depending on the shop.
To add insult to the injury, some basic goods like 2-litre bottles of cooking oil, washing powder, laundry soap and sugar have disappeared from most supermarkets shelves.
Surprisingly, the products are found in abundance on the streets and in downtown shops.
Despite the country being maize secure, the price of mealie-meal has skyrocketed in most supermarkets.
In Spar Mutare, 10kgs of mealie-meal is ranging between US$5.88 and US$7.58 or the equivalent in local currency, depending on the brand.
In Pick n Pay's Mutare and Dangamvura branches, the same commodity was priced between ZWL14 149.99 and ZWL17 000 as of yesterday, depending on the brand.
On Wednesday, the same prices were obtaining in Chipinge's OK Supermarket and Pick n Pay, while the same product was being sold for US$5 at most tuckshops.
Sugar, which is also on high demand and is sometimes unavailable in most supermarkets, is going for ZWL4 339.99 for a kilogramme in Pick n Pay Dangamvura.
For 2kgs of the same commodity, one needs to part with US$4,30 in Spar Mutare.
In Rusape, the Farm Shop was using a rate of $3 300 as of yesterday and they were accepting the RTGS equivalent for their products.
For Makoni Trading Centre, a leading supplier of stock feeds, customers had to pay using a rate of ZWL3 500.
The rate at Greensview Pharmacy in Rusape was ZWL3 000 as of yesterday.
Those interviewed said Government needs to deal with the indiscipline in the market as the prices of basic commodities are now beyond their reach.
Ms Charity Gondo said it is now difficult to find small businesses that still accept the local currency.
"We have been going up and down the city looking for a shop that will accept the local currency but it seems like only the big supermarkets are still accepting it.
"Some commodities have disappeared from the shelves of the big supermarkets and you are left with no option but to buy the foreign currency from the black market to get the goods from the downtown tuck shops," she said.
Another shopper, Ms Grace Machesa said she has resorted to buying basic commodities from neighbouring Mozambique as the prices here are too high, even in foreign currency.
Mr Edmore Chimwarimwari of Singizi, just outside Chipinge Town, said in some supermarkets, the prices being charged at the till point are different from those displayed on the shelves.
"They are charging different prices on the till point from those displayed on the shelves. The margin is just too big. I asked the till operator on the discrepancies and she told me that their system is controlled in Harare and the prices are changed there," he said.
A Chipinge businessman who owns a chain of shops in the district, Mr Moses Muperi said he is selling his goods in forex as the wholesalers are no longer accepting the local currency.
"At the wholesales where we buy our goods, they are selling 75 percent of their products exclusively in foreign currency. They are arguing that suppliers are demanding foreign currency," he said.
Chipinge Business Initiative chairman, Mr James Gabaza said retailers are profiteering at the expense of the public.